State, Town, Schools Prepare for Coronavirus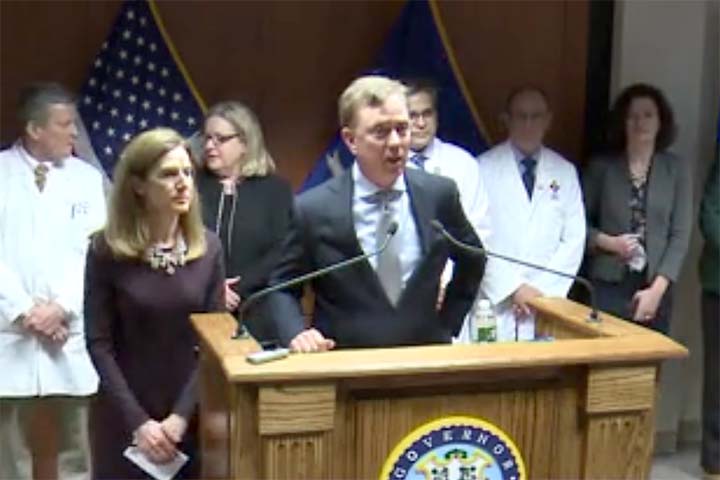 Governor Ned Lamont told reporters in Hartford yesterday afternoon that the Centers for Disease Control had "upped the ante" on the coronavirus from "a position of containment to mitigation."
"It's no good pretending it's not going to come," said Dr. Matthew Cartter, Director of Infectious Diseases for the Department of Public Health. "We now have a window of opportunity to get ready for transmission that could occur here…and prepare the medical system."
"This is not a call to make you nervous," said the governor. "It's a call to give you confidence that we're ready for what's going forward here."
Mr. Lamont said the State has been preparing for a pandemic since last summer, and is now focusing on providing support for hospitals and healthcare providers "to make sure they get all the supplies they need." He said the State is reaching out to local governments, schools, and residents to encourage prevention.
At present, there are no confirmed coronavirus cases in Connecticut. Dr. Cartter said there is no vaccine, and that there will not be one for at least a year. He added that no approved antiviral medication exists that would provide relief.
The governor urges residents to follow guidelines issued by the CDC.
In addition, the Health Department's official website contains updated information on the State response and resources for schools, healthcare practitioners, and residents.
In Weston
First Selectman Chris Spaulding said the Town "is taking the issue seriously. We are monitoring developments, federally and state-wide. We are in touch with all relevant agencies, and are regularly communicating internally between administration, public safety and public health leaders. We will certainly notify citizens should there be any pertinent local developments or state initiatives that need to be enacted."
Dr. Spaulding also suggests that residents become educated and attentive to developments in the United States and abroad. He recommends an Australian website, virologydownunder.com, which contains information and perspective on pandemics and the coronavirus.
At the schools
In an advisory sent to parents today, Superintendent William McKersie said teachers and staff are being "extra alert to the wellness of students and their colleagues."
Dr. McKersie said the administration is developing action plans in the event coronavirus is confirmed in Weston schools. Families and staff would be advised of specific steps that were called for and, in the worst case, the schools would be closed.
The superintendent emphasized that schools would only close "as a last resort," based on findings by public health officials. Closure would be total, said Dr. McKersie, as "the difficult truth is that it is not advisable to partially open the district."
In the meantime, the district intends to follow CDC recommendations to send home students or employees who, upon arrival or during the day, "appear to have acute respiratory illness symptoms" such as a cough or shortness of breath.
For the remainder of the school year, the district will continuously evaluate potential health risks of international programs, including a planned trip to Spain and a mid-spring Builders without Borders program in Costa Rica.