Defamation Suit Against School Board, Officials Seeks Millions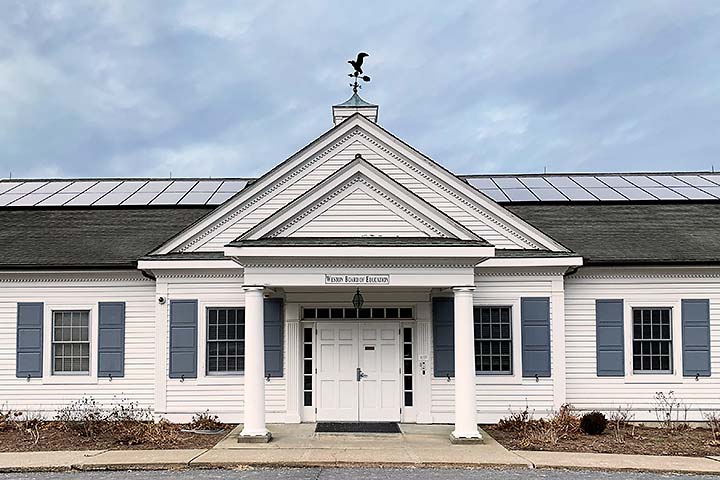 David Lustberg, former Transportation Coordinator at Weston Public Schools, has filed a multi-million dollar defamation lawsuit against the Board of Education, Superintendent William McKersie, and Human Resources Director and Internal Counsel Lewis Brey.
In his court filing, Mr. Lustberg says he was defamed in an email sent by Dr. McKersie to school families and staff on March 12, 2019. The day before, Mr. Lustberg had been fired.
The email announced his dismissal, saying that a "thorough investigation…revealed that Mr. Lustberg, over a period of years, has repeatedly misappropriated fuel from the District," and that the matter had been reported to Weston Police.
Mr. Lustberg's filing disputes all elements of the superintendent's statement. In addition to defamation, it separately accuses Dr. McKersie and Mr. Brey of negligence and malice, describing the email as written in an "extraordinarily public and harmful manner," one that caused Mr. Lustberg financial hardship, harmed his reputation, impaired his ability to support his family, and caused humiliation and emotional distress. He seeks compensatory and punitive damages in excess of $5 million.
Use of fuel
Hired in 2009, Mr. Lustberg managed the school bus transportation system and later took on the role of Energy Manager, overseeing energy use in school facilities. He also coached high school softball.
In his complaint, Mr. Lustberg says he saved the school district millions in transportation and energy costs, and worked 50-hour weeks. He said much of his work was done in off-hours and required extensive driving, often in his personal vehicle.
He was, according to the filing, entitled to receive mileage reimbursements for personal vehicle use at IRS-specified rates, but, to save time on paperwork, he never claimed them. The filing says that when he realized how much he would have been due in reimbursement, he decided to "seek reimbursement by gas, with the belief at the time he had full authority to do so."
The claim asserts that Mr. Lustberg had been given "complete discretion" over transportation, including for fuel. It cites glowing performance reviews, and quotes comments that Mr. Lustberg's "complete ownership" of transportation allowed his supervisor to "focus on other areas" of his own position.
Mr. Lustberg's filing says that he fueled his vehicle from the district's pump 37 times over ten months. Doing so, he said, saved the school system about $1,200, given the cost of gasoline compared to what he would have received in mileage reimbursements. It goes on to say that Mr. Lustberg, given his role, was fully aware that his actions were recorded by security cameras and registered in computer records.
Termination
The court filing alleges that another employee, who was being fired, accused Mr. Lustberg of stealing fuel. Mr. Lustberg was placed on administrative leave on March 7 and terminated after a hearing on March 11.
At the hearing, according to the filing, Mr. Lustberg explained his fuel usage, offered to repay the cost of fuel he had used, and pledged to follow "preferred procedure" in the future. He says he was terminated without full consideration of the facts or "contacting any of the dozens of persons who could verify Lustberg's extensive use of personal vehicles for WPS work and the mileage reimbursement to which he was entitled."
The lawsuit asserts that phrases in the email about "a thorough investigation," using fuel "over a period of years," and alleging that Mr. Lustberg "repeatedly misappropriated" fuel are false, and that there was "no evidence of criminal intent."
Criminal charges
The suit alleges that Dr. McKersie and Mr. Brey "presented false criminal charges to the Weston Police Department, as they knew Lustberg did not intend to steal from the District and the value of the gas he obtained was significantly less than the amount to which he was entitled."
On May 16, following the issuance of an arrest warrant on a charge of second-degree larceny, Mr. Lustberg turned himself in to Weston Police. He later pled not guilty. According to the Superior Court, the case is "awaiting disposition," and all records are under statutory seal.
At press time, efforts to reach Mr. Lustberg and his attorneys have been unsuccessful. School district officials and the Board of Education chair declined to speak, the district saying the administration is "not able to comment on potential litigation."
Editor's Note:
Following publication, Weston Today received the following statement from the Board of Education's outside legal counsel:
"The Weston Board of Education has not yet been served with the referenced complaint. However, the claims made in the draft complaint are without merit, and the Board of Education will defend vigorously against those claims if the complaint is served."