Shavees Lose it at St. Baldrick's, February 29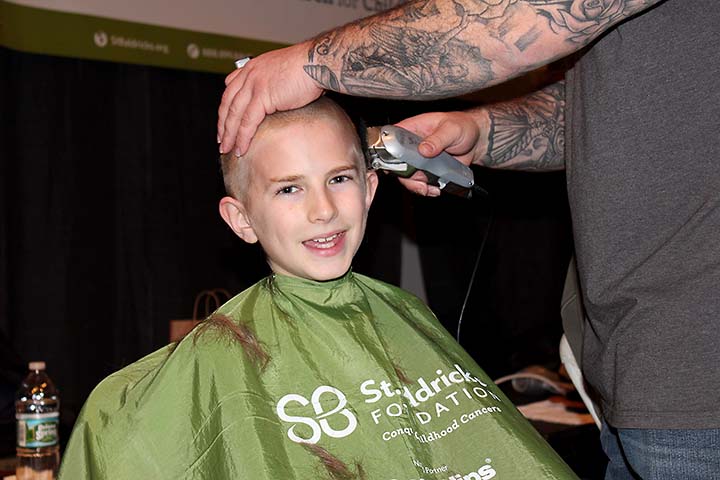 Cavan Morvillo at 2019 St. Baldrick's
St. Baldrick's, the big, incredibly fun community head-shaving party, runs this year on February 29th at St. Francis from 6:30 to 10:00. Think free food from popular providers, an open bar, terrific music, and probably the best silent auction around.
This is the third annual St. Baldrick's in Weston. We have never heard anything less than a rave about it. Since it began, the student-run organization has raised over $100,000 to help fight childhood cancer. Here is how it works.
Shave and a haircut, two bits (plus some)
In the run-up, volunteers reach out to friends, families, co-workers, neighbors, and anyone else who comes to mind to sponsor them. Some kids go door-to-door seeking support from local businesses which, as we understand it, generously help out.
The whole thing works much the same way as a walkathon, except no one walks. They get their heads shaved. Lisa Bigelow, one of the parent organizers, describes it as a "joyful event," and said the age of shavees ranges from toddlers to grandpas.
"It's a true community evening," said Gina Albert, who organizes the silent auction. "It's incredible to walk into the St. Francis parish center and see the room packed."
Buy tickets soon, because last year the party sold out. In advance, adult tickets go for $50. For children, it's $25. You can pay by Venmo to @Teresa-Bello-2 or send a check to:
Teresa Bello
39 Greenlea Lane
Weston, CT 06883
You can also get tickets at the door (payable only by check), but they will be $60 for adults and $30 for kids.
A great silent auction
The auction promises to be memorable. Here are some of the items we understand will be on the block:
Tickets for opening night at the Tribeca Film Festival and for the after-party.


Two tickets to a Nets game.


Tickets to a Nets game in a suite.


All kinds of premium bourbons.


Gift certificates for tons of top Westport restaurants, including Ka Wa Ni, The Whelk, and Jesup Hall.


A free trial weekend at the Weston Field Club for the family, including a $100 food voucher, or a free weekend of summer camp.


A makeup party for eight at Benefit Cosmetics Boutique in Westport.


A private shopping party at Vineyard Vines, with $300 off your purchases for the night and 15 percent off for everyone else in your group.


And more.
Music, food, drinks
The musical attraction is Residual Groove, known with a slightly different cast as the popular band Kris. The Weston High School band also performs, and there will be face painting. Enjoy.
Free food and drinks have been donated by Black Cat Grille, Peter's Weston Market, Alley Kat Pizza Truck, and Tony Pizza. Enjoy that too.
Big names
If you've never met a Super Bowl champion, you will enjoy chatting with former New York Giant Chris Canty.
You will also have the pleasure of hearing from John Bender, a founder of the St. Baldrick's Foundation. In 1999, Mr. Bender was challenged by a friend to give back in return for his good fortune in business. A friend's thick head of hair gave him the idea that became a head-shaving fundraising party.
So far, the foundation has provided $282 million for childhood cancer research, and is directly responsible for a new drug that was approved by the FDA in 2015, only the third in 20 years developed specifically for children with cancer.
Team Weston
St. Baldrick's Team Weston is a high school club, one of the largest. "The kids do most of the heavy lifting," said Teresa Bello, one of the organizers. Students in Weston's other schools are also active in the effort.
Ms. Bello and her husband, Ed, have a personal connection to the St. Baldrick's cause. One of their children began chemotherapy five days after being born, spent the first year of his life in the ICU, and endured multiple surgeries. "He is okay now," said Ms. Bello. "We're hoping for more outcomes on the better side."
St. Baldrick's is an opportunity "to do something good as a family," said Debbie Morvillo, another driver, with her husband Scott, behind the Weston program. "It empowers kids to do something about childhood cancer," she said.
She was too modest to point out that her daughter Catie, a high school senior, and son Jack are credited by everyone we spoke to as probably the biggest "heavy lifters" of all to make the St. Baldrick's event happen.
Contact one of the student leaders by email for more information, to volunteer as a shavee, or to sponsor one:
Catie Morvillo.
Jack Morvillo.
Daniel Bello.
Scenes from last year's St. Baldrick's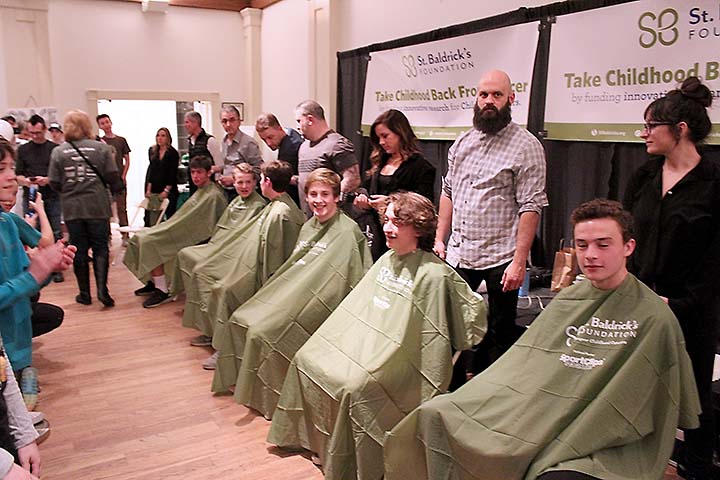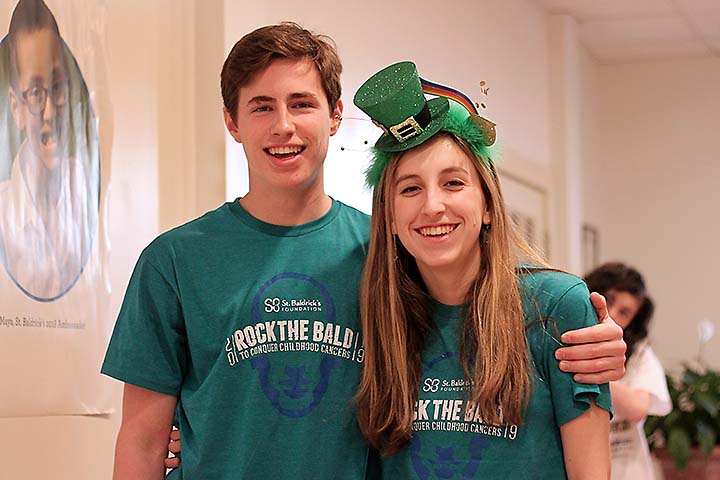 Jack and Catie Morvillo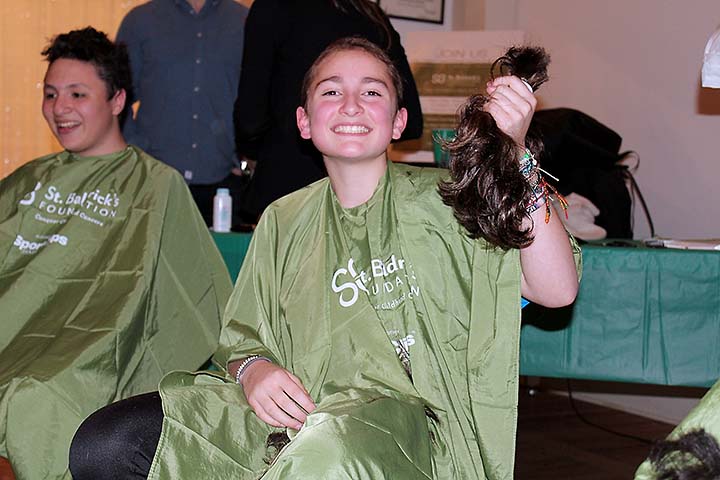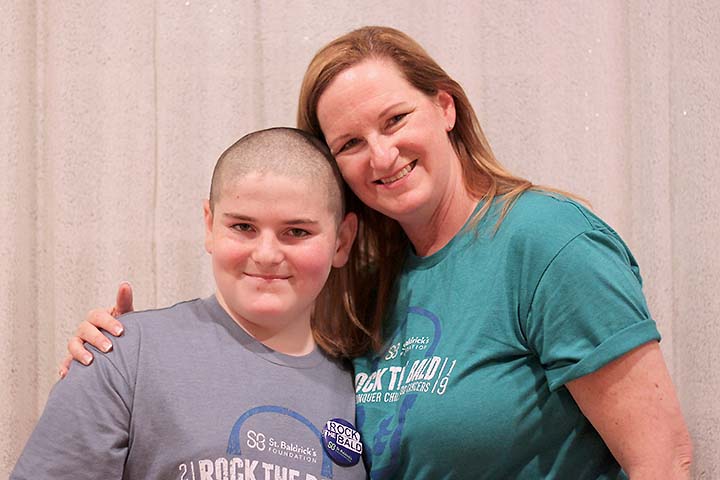 Eli and Gina Albert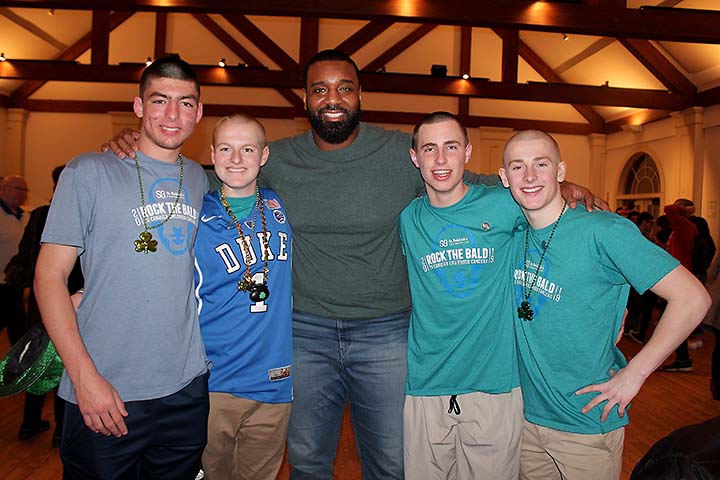 Center: Football great Chris Canty