Haskell, Hwang Support Sexual Assault Protections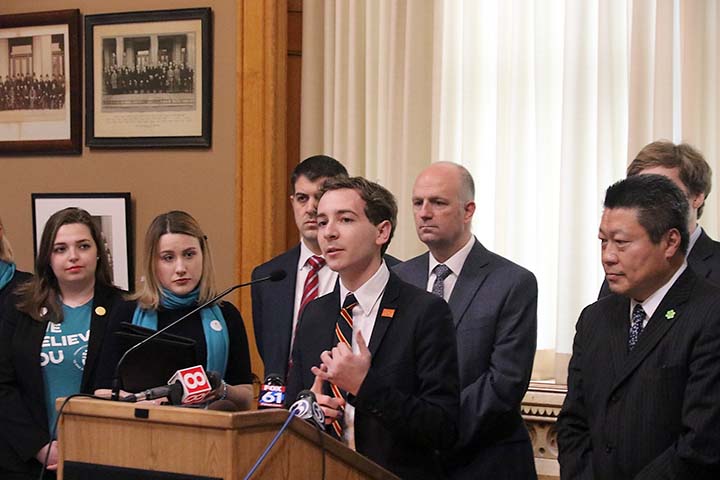 State senators Will Haskell and Tony Hwang joined forces today in a bipartisan coalition supporting legislation to give college students added protection against sexual assault.
Senator Haskell is co-chair of the Senate's Higher Education and Employment Advancement Committee. Senator Hwang is the committee's highest-ranking Republican member.
"When a new student walks onto a college campus, they're usually promised that they're entering a safe space," said Senator Haskell. "They're told that dormitories and classrooms will provide the support they need to pursue academic endeavors and transition into adulthood. But tragically, many students cannot feel safe due to the epidemic of sexual violence."
Mr. Haskell said, "recent data reveals that as many as one in five women and one in 16 men will be sexually assaulted before graduating college. 90 percent of those assaults will go unreported."
About the proposed bill
If enacted, Senate Bill 19, "An Act Concerning Sexual Misconduct on College Campuses," would establish a sexual misconduct climate survey for use by Connecticut colleges and universities. It would also protect students who report being victims or witnesses of sexual assault, stalking, or violence against potential disciplinary action by the college or university they attend.
Senator Hwang said the bill "will make great strides in enabling proper protections for Connecticut's future. College students need the assurance that they are in a safe environment and they should feel empowered to report any degree of misconduct." The senator said, "I am proud to be part of the team putting our students' safety first."
Mansfield State Representative Gregg Haddad, who co-chairs the Higher Education committee, said the goal of the bill "is to improve the quality of information about what is occurring on campuses," and that it "works to remove barriers that might exist to reporting instances of sexual assault, intimate partner violence, and harassment."
No disciplinary action for reporting
Bridget Koestler of the Connecticut Alliance to End Sexual Violence said, "We know that many instances of campus sexual misconduct involve alcohol or drugs, and that is why we support the amnesty provision in the bill. Students will have the confidence to report if they do not fear disciplinary action from the university or college."
The survey envisioned in the legislation would anonymously gather information about incidents of sexual assault and misconduct, students' knowledge of procedures and rules in place regarding sexual assault, contextual factors, and demographic information. A task force would then analyze survey results and publish a report based on the findings.
Senator Mae Flexer, Representative Gary Turco, and representatives of the Every Voice Coalition also advocated for Senate Bill 19 in the State Capitol's Old Judiciary Room. The Every Voice Coalition includes students, survivors, young alumni, and others seeking to combat sexual violence on college campuses.