Hughes Launches Re-Election Bid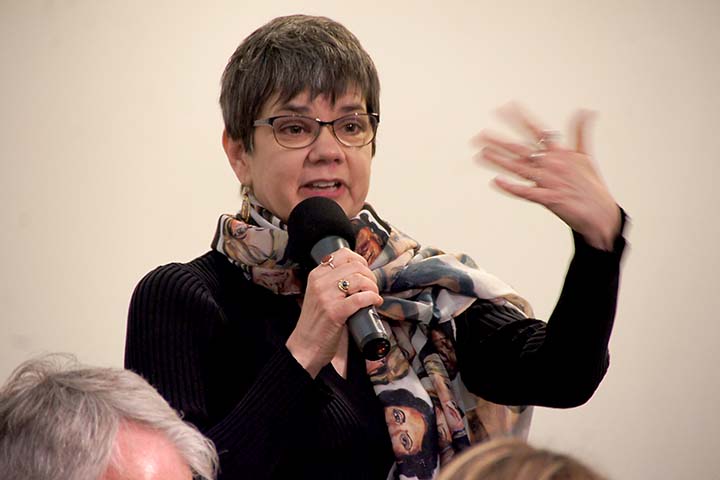 Photo: M.S. Wirtenberg
State Representative Anne Hughes launched her campaign for re-election at Silverman's Farm in Easton on January 12. Ms. Hughes represents the 135th House district, consisting of Weston, Easton, and Redding.
"It was an energetic, enthusiastic kickoff," said Rep. Hughes in an interview with Weston Today.
Ms. Hughes was first elected to the legislature in 2018. Since taking office, she said she has "worked really hard building relationships with the governor and other legislators" to usher in "a new era of accountability and accessibility."
The legislature reconvenes on February 5 for its "short session." Ms. Hughes said she wants to use the time to "build on the engagement" of the 2019 session and "look at everything through a climate crisis lens," making sure that all State initiatives and programs avoid harming the environment.
Priorities
Rep. Hughes said she also wants legislators to focus on improving access to health care, reducing the cost of prescription drugs, and addressing growing economic disparity in the state. "It's all about making policy decisions that are inclusive of those who have been left on the economic and political margins."
Ms. Hughes is co-chair of the Progressive Caucus, a group of over 40 Democratic representatives whose priorities include economic and racial justice, health care, and voting rights. Rep. Hughes has called on Governor Ned Lamont to hold a special legislative session to enact automatic voter registration.
At times last year, the caucus's priorities pushed up against Governor Lamont's agenda by advocating for a higher income tax rate for wealthy households, opposing repeal of the estate tax, and increasing tax credits for the working poor.
"I'm Energized"
Ms. Hughes is proud that the legislature passed a state water plan that deems water a protected resource. She is even more proud that paid family leave was passed and enacted with the governor's signature.
That measure provides 12 weeks of wages, calculated on a sliding scale, for those who need time off for medical reasons or to care for a family member. It goes into effect in 2022, and will be funded by a ½ percent payroll tax. "People would contribute to a GoFundMe for a neighbor who has these needs," said Ms. Hughes. "Now you don't have to."
"This election will be about how engaged and accountable we are," said Ms. Hughes. "I'm energized by doing this work. We need the public energized and engaged too."