Play With Your Food Season Opens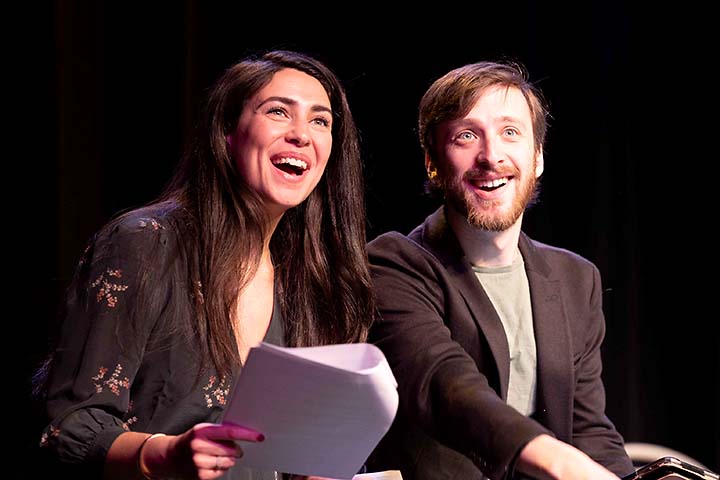 Kim Maresca and Sam Plattus in Ray Bradbury's Kaleidoscope.
Play With Your Food, the fresh, innovative theater experience, begins its 2020 regular season on January 7 in Westport.
"You don't have to go into New York City for great theater!" says Weston's Diana Muller, the group's producer. She and Artistic Director Carole Schweid spend a great deal of time in the off-season each year finding perfect plays for the program's unique format.
Here is how it works.
For 90 minutes at lunchtime during the week, you go to a venue like Toquet Hall in Westport or similar locations in Fairfield and Greenwich. Lunch is catered from popular gourmet restaurants. You see three one-act plays read by professional actors from stage and screen, most of whom live nearby. (Some are pretty big names.) At the end of the performance, you get to join a discussion with the cast and director.
Stars Come Out
Fan-favorite stars who often perform include Jill Eikenberry and Michael Tucker, James Naughton, Patricia Kalember, Daniel Gerroll, Joanna Gleason, Jodi Stevens, and Scott Bryce.
"Actors love doing this," says Ms. Muller. "It's fun, it's a short commitment, they can do it between other gigs, and the audiences are fantastic." Performances are script-in-hand, so the plays often develop whole new lives over the course of a season.
Play With Your Food
has been running for over ten years. The season goes from January through April. Tickets for a performance are $54, which includes both play and food. They tend to sell out fairly quickly. You can order on the organization's website,
JIBProductions.org
, where you can also see details about the season. You also have the option to buy a discounted season pass. The box office telephone is (203) 293-8729.
The Westport season starts on January 7 at Toquet Hall, 58 Post Road East. In Fairfield, the curtain rises on the 14th at the Fairfield Theatre Company, 70 Sanford Street.
Plays on the January Menu
In Westport and Fairfield, the one-acts include The Bridge Play, a dark comedy that involves two lost souls who may or may not have come together by mere coincidence, David Auburn's topical The Gun Show, and the poignant Hard to Be Happy, about a woman moving forward with her life but wondering if could it have been different or better.
In Greenwich, the season opens on January 22 at the Greenwich Arts Council, 299 Greenwich Avenue. The January one-act plays there include Hamish Linklater's hilarious Nudity Rider and The Adventures of…, by Kathleen Warnock, the story of a young girl's surprising coming-of-age.
Later in the season, Play With Your Food plans to offer iconic pieces written by Pulitzer Prize winner Arthur Miller, Drama Desk Award winner Josh Harmon, and takes on contemporary life and love by Cary Gitter, Scott Mullin and Marisa Smith.
"We're fortunate to be in an area that supports the arts and provides so many opportunities for the tremendous actors who are based here," said Ms. Schweid, the director. "We love introducing new talent to our audiences but also love surprising them with some very well-known actors who happen to be around. You never know who's going to show up to read a part for us!"