Farewell to Westport Pizzeria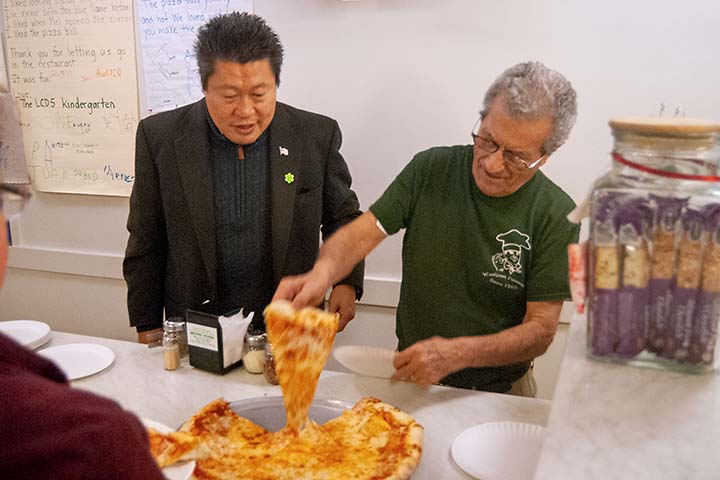 Our neighbors in Westport are about to say goodbye to a town fixture when Westport Pizzeria closes next week after 51 years in business.
State Senator Tony Hwang arranged a farewell party on Friday afternoon, joined by Westport First Selectman Jim Marpe, Second Selectwoman Jennifer Tooker, State Representative Gail Lavielle, Probate Judge Lisa Wexler, and former State Senator Toni Boucher.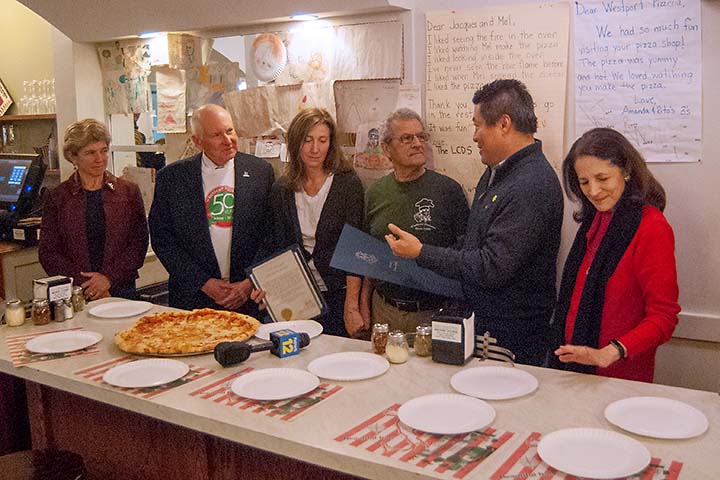 The restaurant isn't a victim of the "retail apocalypse." At 79, its owner, Mel Mioli, is simply ready to retire.
"I have enjoyed every moment," Mr. Mioli told the crowd gathered in his honor. "And I've made so many friends over the years."
Senator Hwang said, "For me, this is special. It's all about a family committing themselves to the community. I'm close to this. I grew up in a family restaurant business. This is a way to honor the hardworking people who serve but don't always get recognized. This is a moment to come in to say thank you for being a neighbor."
The senator gave Mr. Mioli a proclamation signed by the State legislators who represent Westport. Mr. Marpe presented one from the Town and said, "We celebrate our locally-owned businesses because of what they mean to the community. Westport Pizzeria has been a model of that," noting the Mioli family's history of "serving so many local causes."
The family had moved to Connecticut from Italy, opening Westport Pizzeria on Main Street, where it remained for 45 years before relocating to 143 Post Road East.