Police Commission Honors William Brady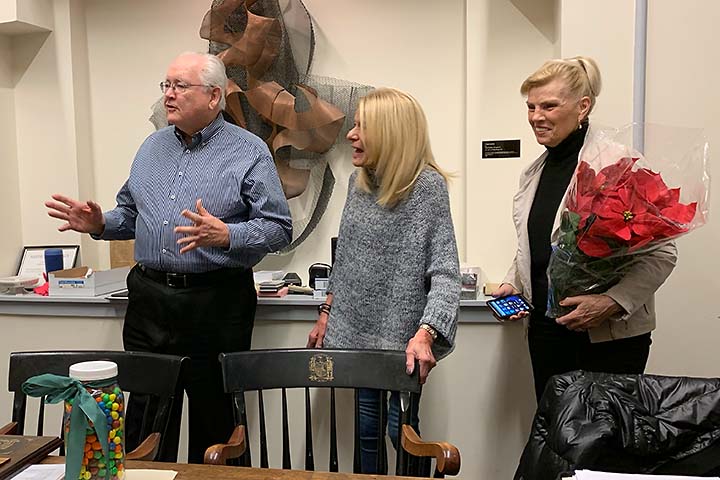 Left to right: William Brady, Beth Gralnick, Louise Brady.
On Tuesday evening, the Board of Police Commissioners honored departing member William J. Brady for his many years of service. Beth Gralnick, who succeeds Mr. Brady as commission chair, presented a plaque to him and a bouquet to his wife, Louise. Ms. Gralnick cited Mr. Brady's "22 years of dedicated service to the Police Commission and town of Weston."
Mr. Brady told commissioners, "It has been a pleasure and a joy working with you all. Weston has the best police department, command, officers and staff in the state of Connecticut."
Over the course of two decades, Mr. Brady played a key role in the development of the Weston Police Department into a modern, professional force. His efforts included hiring and promoting the command staff and officers, and establishing the SRO program as part of broad school security initiatives. His efforts led to improved department policies and training, coordination with other towns, and establishment of the regional forensics lab in Weston.
We do not know if Mr. Brady intends to seek elective office again, so in keeping with our strict observance of political neutrality, we cannot mention how grateful we are for his insight and support since the launch of Weston Today. Oops.
Left to right: Captain Matt Brodacki, Chief Ed Henion, Officer Jason Kim, Officer James Boyles, police assistant Mary Gunshor.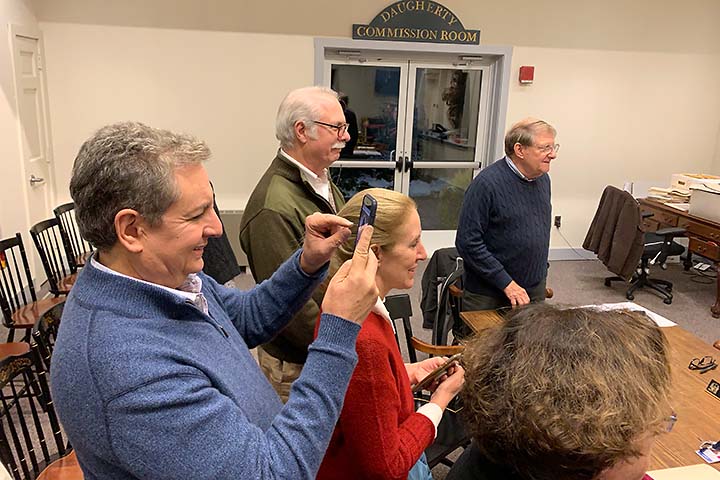 Police commissioners honor Mr. Brady.