77 More Acres for Devil's Den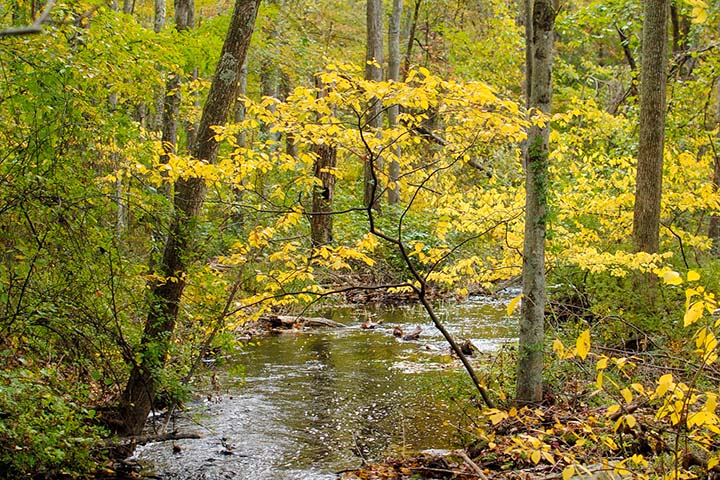 Contributed photo.
Thanks to a generous gift, the Nature Conservancy in Connecticut has added 77 acres of prime woodland and wetlands, formerly owned by the Nevas family, to its nearly 1,800-acre preserve. The land is on the western border of the Lucius Pond Ordway-Devil's Den preserve.
The state director of the Nature Conservancy in Connecticut, Dr. Frogard Ryan, said, "We've had our eye on this property since the 1970s, because we knew how important it would be to enhancing the conservation value of Devil's Den. Now, thanks to the generosity of the late Joan Livingston Tweedy and her children — Dr. Philip Livingston, Patty Livingston, Millie Livingston Siceloff and Dr. Robert Livingston — and the Tortuga Foundation, we've realized that dream. Thanks to them we are building on a natural legacy for generations to come."
Dr. Livingston, a Conservancy trustee and son of Joan Tweedy, said, "We were so pleased as a family to honor our mother's legacy this way. The importance of protecting our natural world can't be overstated today, and this contribution seems a natural extension of our mother's and family's commitment to conservation."
Devil's Den is the Nature Conservancy in Connecticut's largest and most frequently visited preserve. The Conservancy manages over 15,000 acres of contiguous forest in a mix of hardwood forest and wetlands which protects the headwaters of the Saugatuck River watershed and provides habitat for 500 types of trees and wildflowers and over 140 bird species. It also provides greater connectivity for mammals with large home ranges like red fox, bobcat, coyote, and black bear.
The Conservancy also provides an immersive natural experience for residents of Weston, Fairfield County, and beyond. "We have more than 20 miles of trails which connect to neighboring trail systems," said Cynthia Fowx, Devil's Den preserve manager, "and we see upwards of 40,000 visitors annually. It's great to have a natural gem like this so close to a metropolitan area."
Dr. Ryan said, "Land conservation requires many partners, and the acquisition of this property was no exception. The Tweedy and Livingston families, the Summer Hill Foundation and the Nevas and Price families who worked with us to protect this property in memory of their grandparents — Leo and Libby Nevas — all played crucial roles in making this acquisition a reality. We're so grateful."