P.E.O. Accepting Scholarship Applications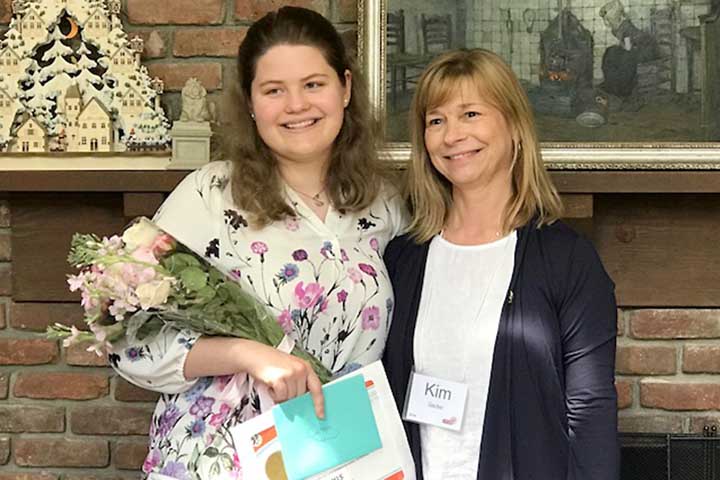 Weston's Chapter P of P.E.O. (a philanthropic and educational organization for women) is pleased to inform area students of local and national scholarships, as well as low-cost educational loans for young women from Weston, Easton or Redding.
Last spring, Weston High School graduate Catrin Zharyy was awarded a P.E.O. STAR scholarship of $2,500. The STAR scholarships are highly-competitive and are awarded to female high school seniors who demonstrate outstanding leadership, academic achievement, and community service, and who plan to pursue secondary education in the U.S. or Canada in the Fall of 2020. Catrin is now attending Northeastern University in Boston, MA.
"P.E.O. strives to help women achieve their highest aspirations, to reward them for their academic performance and assist with the ever-increasing costs of a college education," said Jenny Mitchell, Chapter President and a Weston resident. "P.E.O. grants and loans are geared toward higher education for women, which we hope helps in their life long journey."
As a worldwide philanthropic organization, P.E.O. supports scholarship, grant, loan and award programs designed to assist women in furthering their education. P.E.O. is now accepting applications for the STAR scholarship as well as for these three others:
P.E.O. Educational Loan Fund: A revolving fund to lend money, at a low 2% interest rate of up to $20,000, to qualified women students to assist them in securing a higher education.
P.E.O. Scholar Awards: A substantial award of up to $15,000 to women who are pursuing a doctoral level degree or are engaged in postdoctoral research at an accredited college, university or institution.
P.E.O. Program for Continuing Education: A grant program providing financial assistance of up to $3000 to women whose education has been interrupted and who find it necessary to resume studies due to changing demands in their lives. They must have a need for financial assistance with their educational expenses to improve their marketable skills. In 2017, Weston's Chapter P was able to provide a $3,000 loan to a local woman pursuing her degree in social work.
Anyone interested in learning more about the P.E.O. scholarship grants available through the national chapter, can contact P.E.O. Chapter P, Weston, CT at peochapterpct@gmail.com. Application deadlines differ for many of these scholarship grants. It is recommended that interested applicants contact P.E.O. Chapter P at their earliest convenience.
The P.E.O. Sisterhood, founded in 1869 at Iowa Wesleyan College, is interested in bringing to women increased opportunities for higher education. There are approximately 6,000 local chapters in the United States and Canada with nearly 250,000 active members. Chapter P was organized in Weston in 1966.
Contributed. Photo: 2019 STAR Scholar Award Recipient Catrin Zharyy with P.E.O. Chapter P STAR Scholar Chair, Kim Gautier.