Second Annual Smart Walk, September 22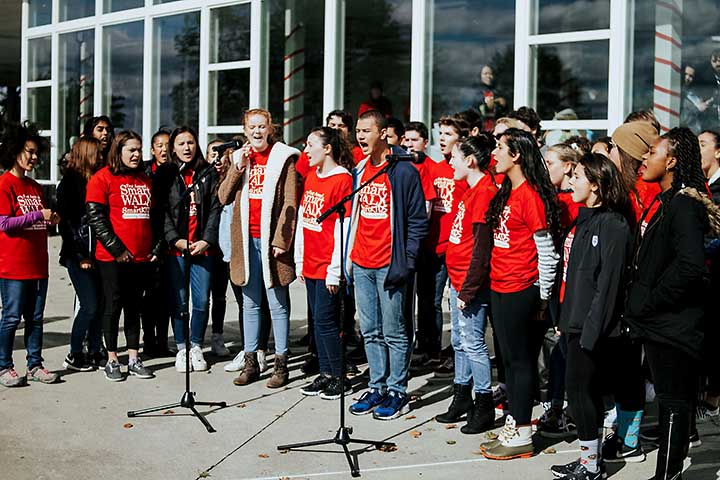 Photo: Rodolfo Sanches Carvalho
After a successful inaugural event last year, Smart Kids with Learning Disabilities, a Norwalk-based nonprofit, holds its Second Annual Smart Walk on Sunday afternoon, September 22, from noon to 3:00 at Sherwood Island State Park in Westport.
A community of families, friends and professionals will gather to celebrate the strengths of children with learning disabilities and ADHD, empower parents and combat the stigma long associated with these issues. The event will raise funds for critical educational programs, youth mentoring, parent networking, online resources and more to help families find the support their children need to be successful in school and in life.
Individuals, families, and teams are welcome to walk the approximately two-mile scenic route at their own pace. The event will include games and activities for children and a performance by the Weston High School Chorale. There will be free snacks and food for purchase and an ice-cream truck offering one free ice cream to children 17 and under who have registered with their families and completed the Walk. Registration is available on-site or in advance online. Entry fees are $15 per adult, $10 for children ages 7 through 17 and free for children 6 and under. The Walk will be held rain or shine, and parking is free.
Robert Tudisco, a nationally known disability rights attorney with Barger & Gaines, author, and motivational speaker, will serve as master of ceremonies. An adult diagnosed with ADHD, Mr. Tudisco is a former member of the National Board of Directors of Children and Adults with Attention Deficit Disorder (CHADD). Tori Ingulli, a junior at the Wooster School in Danbury, will share her story about how she gained the courage to become a self-advocate.
Smart Kids with Learning Disabilities relies on parent volunteers to whom the organization has provided life-changing support to help produce educational programs and events in many Connecticut communities. The Smart Walk co-chairs this year are Westport residents Julie McMahon, who has assisted with Smart Kids' annual conference and lecture series, and Laura Snow, a Westport Chapter leader and the coordinator of Countdown to Kindergarten, a new program that provides training for children's librarians and hosts a series of lessons in pre-literacy skills for parents and children ages 3 to 5. Programs were delivered in Norwalk, Bridgeport and Westport this year.
The organization says recent data from the Connecticut State Department of Education shows 28,069 Connecticut children, 5.5 percent of all, diagnosed with specific learning disabilities and over 16,000 — 3.2 percent — diagnosed with other health-related impairments, including ADHD. Smart Kids also reports that, nationally, 6.1 million youngsters were diagnosed with ADHD, according to the 2016 National Survey of Children's Health, and that developmental dyslexia affects 10 to 12 percent of children nationwide. The organization also cites a National Center for Learning Disabilities report indicating 18 percent of students with learning disabilities are likely to drop out of high school, three times the rate of their peers.
About Smart Kids with Learning Disabilities
Founded in 2000 by Norwalk resident Jane Ross, executive director, Smart Kids with Learning Disabilities has since grown to include chapters in Stamford/Greenwich, Westport/Wilton, Northern Fairfield County, and Hartford. Its mission is to educate, guide, and inspire parents of children with learning disabilities and ADHD. SKLD helps parents realize their children's significant gifts and talents, and shows that with their love, guidance, and the right support, their children can live happy and productive lives. The organization provides an award-winning website and blog, free e-newsletter, and educational programs and support so parents can be effective advocates for their children. For more information, visit www.smartkidswithld.org.