Emmanuel Church Family Fair, September 21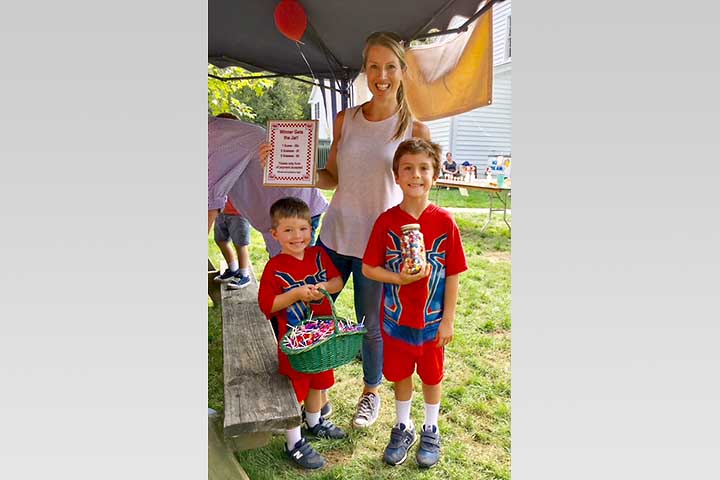 Fun will abound at Emmanuel Episcopal Church's 113th Family Fair — said to be the oldest in the state — on Saturday, September 21 from 10:00 am to 4:00 pm. The time-honored event will take place on the parish grounds at 285 Lyons Plain Road, rain or shine.
Fairgoers will enjoy music from Weston's own duo, Ted and Linda and friends (the Terodactyls), beginning at 11:00 am. There will also be performances by Tony Award Winner Kristin Huffman and members of the New Paradigm Theater Youth Board. Carnival fare will be served by popular food trucks. Kids will enjoy an inflatable obstacle course and a bouncy house.
On the animal front, features include a chicken petting zoo and, new this year, an exciting Dog Fashion Show from 2:00 - 3:00 pm, which will include prizes. The Dog Fashion Show will have several categories: Agility Course, Cutest Dog, Quirkiest Dog, Smallest Dog, Largest Dog, Most Creative Dog Costume (i.e., funniest, best dressed, most original, best hand-made), Best Kissing Dog, Biggest Lap Dog, and the Dog with the Best Tricks. No prior registration is necessary.
What's more, attendees are invited to enter the longstanding "Best Chocolate Chip Cookie in Connecticut" contest — back with a panel of local judges, to include Hurlbutt Principal Laura Kaddis and Weston Today's Ted Craft, among others. Prizes will be awarded for First, Second, and Third Place. Bakers of all ages are encouraged to enter at no charge. Bring one dozen, home-made chocolate chip cookies, a list of ingredients (required for entry) and your name and contact information to the contest table by 12:00 noon on the day of the fair. Creativity is welcomed — the only rule is that the cookies include chocolate chips. Guidelines can be found on the church website.
Shoppers will delight in the selection of treasures of every sort sold in booths, including oys, collectibles, furniture, jewelry, baked goods (at Emmanuel's "Country Kitchen"), art, and autumn plants. Great finds are sure to be discovered throughout the Family Fair. Cash and credit cards accepted, but not checks.
All can bid on a Silent Auction sporting a vast array of items donated from community businesses, vendors, artisans and the like. Attractive items include unique experiences, themed gift baskets, and other sought-after surprises such as a virtually brand new Genze 2.0 Electric Scooter, which is sleek and perfect for commuting to the train, traveling up to 30 mph for a range of 30 miles on a single charge from any standard outlet.
"Our Fair is a longtime tradition of gathering on these beautiful grounds to build community," said Katy Piazza, Emmanuel's Priest-In-Charge. "We've added some new, family-friendly attractions this year that we know everyone will enjoy."
Fair committee member Faith Florer said: "This Fair is a day not to be missed. Families flock from all across the state to enjoy great eats, deals, and entertainment. It showcases a collaborative effort among our parishioners, youth included, that is fun for all."
113 years old, the Emmanuel Family Fair proudly fosters a home-grown atmosphere and promotes a true sense of community — a sure-fire, winning combination. Additional details can be found at the church website or by calling the office at (203) 227-8565.
In the photo, contributed by Aline Weiller: A pair of brothers from Weston enjoy guessing the number of jelly beans in a jar at last year's Emmanuel Family Fair. This year's event takes place on Saturday, September 21 from 10:00 am - 4:00 pm. All are invited, admission is free.