Mark Twain Library Book Fair Coming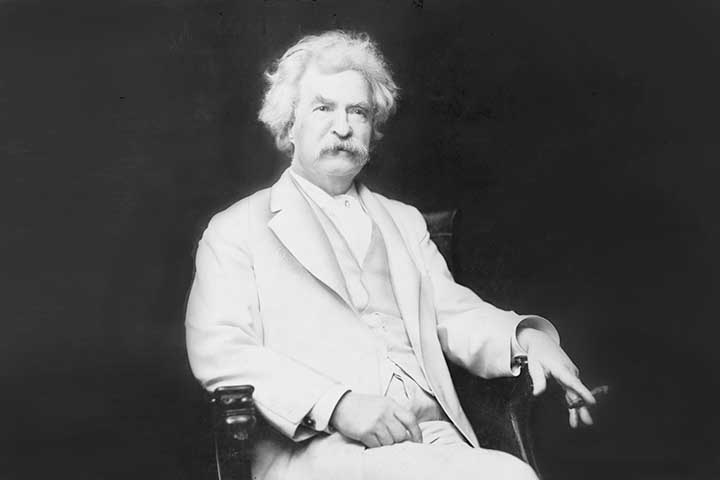 Redding's Mark Twain Library holds its 59th annual Book Fair over Labor Day weekend, August 30 to September 2.
The fair is the oldest, and one of the largest, in New England. The Library itself was founded by Samuel Clemens — Mark Twain himself — in 1908.
Mr. Clemens had moved to Redding in 1907 and possessed more books than would fit in his new home. He donated over one thousand titles to help get the Library started. Upon his death, his daughter Clara donated more for sale to build on his fledgling legacy in Redding.
Today, more than 100 years later, the Book Fair is still one of the Library's principal fundraisers.
The Book Fair runs at the Redding Community Center, which is at 37 Lonetown Road (Route 107), behind Redding Elementary School.
Admission is free, except there is a $20 early buying charge from 9:00 am to 10:00 am on Friday, August 30. Refreshments are available, as is plenty of free parking.
Over 65,000 books will be for sale, organized in 75 categories. Here is the schedule:
Friday, August 30: 9:00 am to 6:00 pm. Prices are as marked.
Saturday, August 31: 10:00 am to 4:00 pm. Prices as marked.
Sunday, September 1: 10:00 am to 4:00 pm. Half-price day.
Monday, September 2: 9:00 am to 4:00 pm. Half-price for individual books, $10 for each box full of books.
For more information on the Mark Twain Library's 59th Annual Book Fair and to see the fair's highlights, please visit the Library's website or call (203) 938-2545.