Gold Award for Weston Girl Scout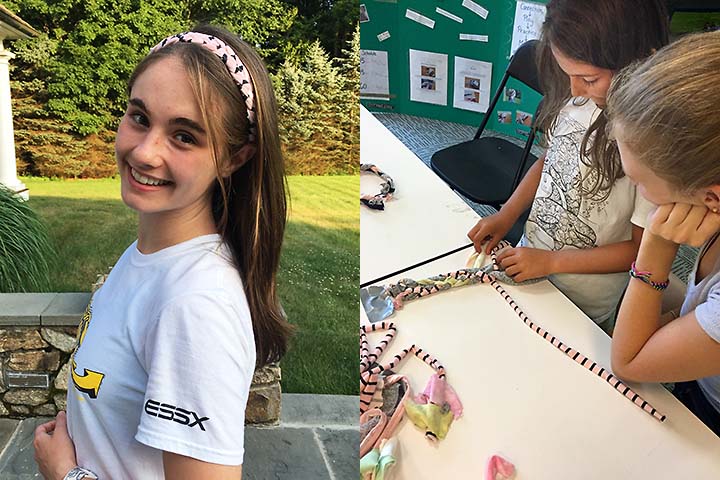 Weston High School rising senior Elise Russell earned the prestigious Girl Scouts Gold Award with a project to teach young girls how to braid. The girls learned how to make headbands with upcycled t-shirt material.
Ms. Russell's project, "Braid It!" ran at the Wilton Library in late July. Some participants were in their teens, others were as young as five. She plans to host classes at the Weston Library at the end of summer.
Ms. Russell has been a Girl Scout for 11 years in Troop 50863. She said: "Girl Scouts represents a place of growth. It was during Girl Scouts that I rode my first horse, volunteered at my first shelter and ate my first carrot that I pulled directly from the soil."
Braiding came to be a passion for Ms. Russell in middle school. She always liked the way they look, but no one in her family knew how to make them. So she taught herself. Now, she says, "I can do dutch, waterfall, and rope braids, too. It's particularly awesome during the prom season because I save a lot of money on a hair stylist."
Ms. Russell was inspired by Dr. Ed Hallowell's book, The Childhood Roots of Adult Happiness. "I invested a lot of time thinking about working on a project that helped create happiness," she said, citing the book's core philosophy that lifelong happiness comes from a childhood that consists of repeating a five step cycle: connection, play, practice, mastery, and recognition.
Fans of braiding who want to learn Ms. Russell's techniques can visit her YouTube channel, "Braid It!." She includes written directions for making headbands and a rag-rug.
The Girl Scout Gold Award, said Ms. Russell, "is not only an honor, but one of the most valuable things that a young woman can do. I have already grown so much throughout this process. I have learned how to become a better leader, how to consistently work hard towards a long-term goal, and how to use my strengths to benefit myself and others."