Improvements Planned Around the Onion Barn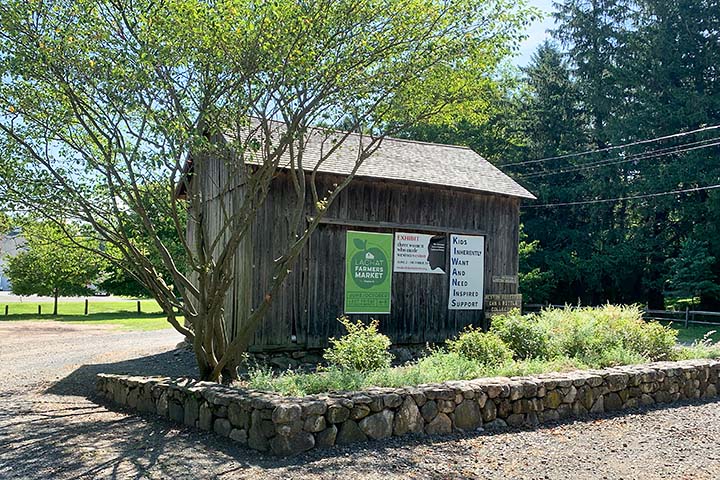 The area around the Onion Barn will get a makeover and the most frustrating problem on the lot will be addressed by plans approved by the Board of Selectmen on July 11. As much work as possible will be done by Town staff with existing resources.
This has been a pet project of Selectman Stephan Grozinger, who briefed the Board on how the Onion Barn grounds can be more appealing, serve as a gathering place, and improve emergency response.
The first problem to be addressed is the flooding and lack of drainage in the parking area. It had not rained for several days when the photo below was taken, but a large puddle still existed, a fair indication of the scope of the problem.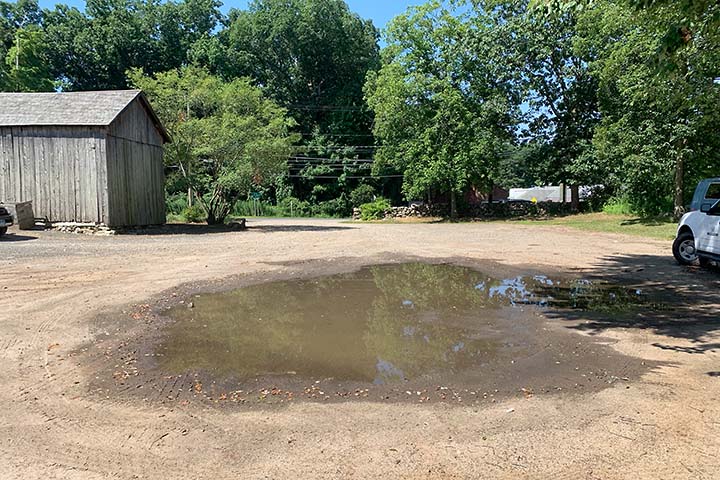 Within days of the Board's decision, Town Engineer John Conte was out with surveying equipment to prepare a grading plan. When the work is done, "water will flow into an area we can handle," said Mr. Grozinger.
Other work involves preparing a driveway apron to keep gravel and pea stone in place, cleaning up tree limbs, and removing overgrown brush. In one overgrown area, between the lot and the playing fields, a hidden stone wall makes maintenance difficult. That wall may be removed, hopefully for free by a masonry company, and grass planted to make the area look nicer. Curbing may be added in the parking area to better define where cars should and should not be parked.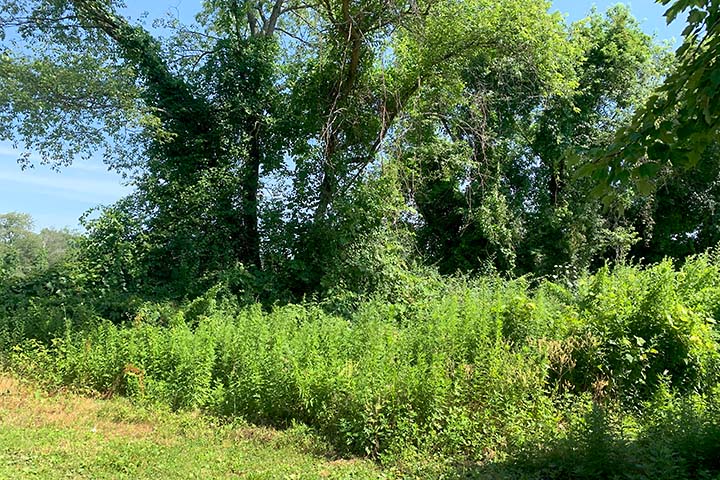 Across the lot from the overgrown area, a split rail fence separates about one-eighth of the property from the rest. It is a barrier for vehicles, but also for pedestrians. Mr. Grozinger suggests considering its removal, putting in either grass or more pea stone, and installing picnic tables. It could also possibly be used to park food trucks during town events.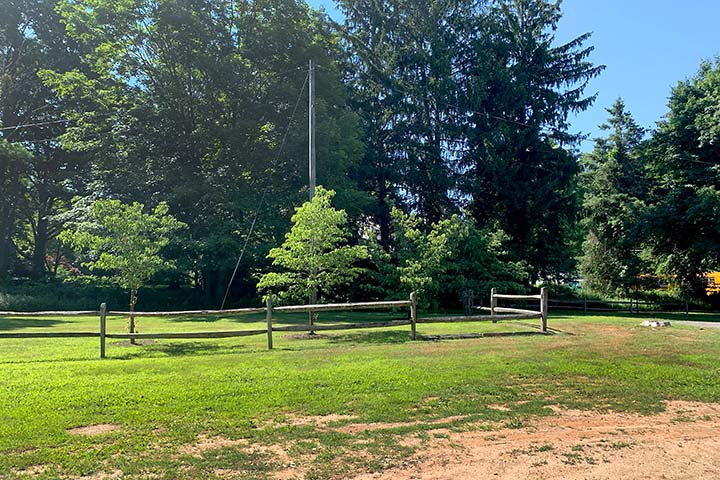 An important idea also in the mix is connecting the parking area to the upper lot that serves Weston emergency vehicles. That would involve grading and laying down stone to create a stable ramp. Currently, police vehicles, fire trucks, and ambulances can only exit the campus onto Norfield Road. If that access were blocked, say, during a storm, Mr. Grozinger says it would be difficult, perhaps impossible, for emergency vehicles to respond to calls. The path could also serve as a walkway, complementing sidewalks that will be built in the area.
In terms of aesthetics, "the area has aged a bit," said First Selectman Chris Spaulding, "and could use some refreshing. We're not going to change anything critical. We're just going to make it more attractive, more useful, and a place for interaction."
The Board voted to submit plans to the Planning and Zoning Commission, something of a formality, but a statutory requirement.