Two Bridge Projects Set for 2021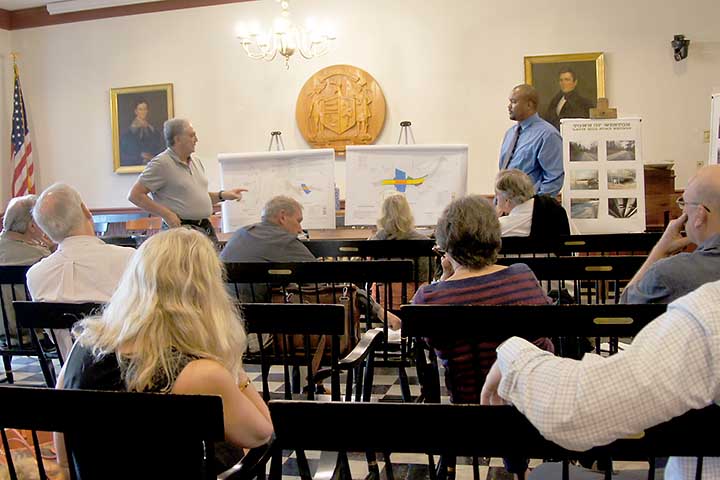 Photo: M.S. Wirtenberg
June 28, 2019 — Two Weston bridges that cross the Saugatuck River are in need of rehabilitation which will begin in the spring of 2021. Town Engineer John Conte held an information session with residents and the State Department of Transportation at Town Hall on June 25.
The Davis Hill Road bridge, built in 1980, and the River Road bridge, built in 1957, will undergo "rehabilitative reconstruction." Neither are in need of total or immediate replacement, but inspectors have rated the condition of each at 6 on a scale of 10. Mr. Conte told about a dozen residents who have homes nearby that reconstruction will add approximately 25 years to the life of each bridge.
Residents asked whether trees will need to be removed or the area partially cleared to improve sight lines, and whether material used on visible parts of the bridges could appear more "rustic" than metallic.
Weston Volunteer Fire Department and EMS officials discussed how the construction, which will take up to eight months, could present a challenge to emergency services to maintain response times as each road is temporarily narrowed to one lane.
80 percent of the funds required for construction will be provided by Federal grants. The Town will fund the remaining 20 percent, an estimated $272 thousand for Davis Hill Road and $230 thousand for River Road.
Reporting by Margaret Wirtenberg.