Weston Young Entrepreneurs Honored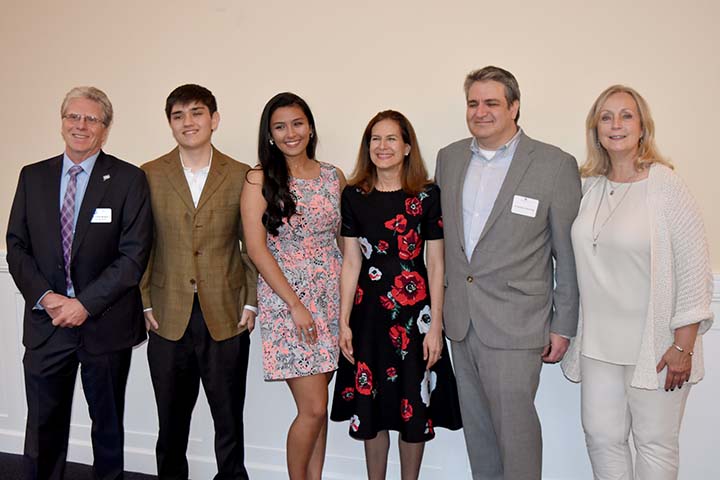 June 14, 2019 — Weston High School seniors Lilly Garone and Garrett Meyerson were honored as Young Entrepreneurs at an awards dinner this week held by the Westport Weston Chamber of Commerce. Ms. Garone and Mr. Meyerson were recognized for their business acumen, enthusiasm, and drive.
Mr. Meyerson is the founder of Upsurge Esports, an online gaming platform that hosts competitive cyber tournaments for amateurs, college students, and professionals.
Ms. Gerone has applied her considerable baking skills to creating a market to raise funds for the Domestic Violence Crisis Center and for Teen Peace.
The gala dinner featured a keynote by Lt. Governor Susan Bysiewicz. Weston First Selectman Chris Spaulding was in attendance, as were Westport First Selectman Jim Marpe, State Senator Will Haskell, and Westport State Representative Jonathan Steinberg.
Chamber chair Barbara Reynolds said she is "so proud of our Weston honorees who took something they love and created an opportunity to grow a business and give back to the community."
First Selectman Spaulding praised Ms. Garone and Mr. Meyerson, saying "Weston is so incredibly proud of these students. Their accomplishments truly demonstrate what makes Weston the premier place to raise children. Their endeavors not only showcased passion, creativity and entrepreneurial zest, but deep compassion and unbridled kindness. Aside from that, having met them, they are simply awesome people. With graduates like these I have great comfort in Weston's strong future."
Photo, left to right: Matthew Mandell of the Chamber of Commerce, Garrett Meyerson, Lily Garone, Lt. Governor Susan Bysiewicz, First Selectman Chris Spaulding, Chamber of Commerce chair Barbara Reynolds.