Jon Weingarten, Citizen of the Year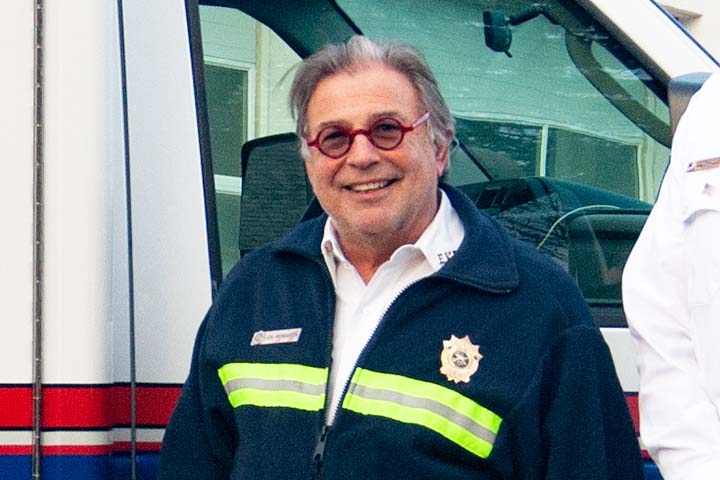 June 3, 2019 — On Wednesday evening, June 5, EMS president Jon Weingarten will be honored as Weston's Citizen of the Year in a ceremony at Town Hall. It takes place at 5:00. You are invited.
The honor corresponds with Mr. Weingarten's 40th anniversary of service with EMS, beginning as an emergency medical technician in 1979. At that time, the service consisted of several Weston Volunteer Fire Department members in an informal organization with one ambulance and only the most basic medical equipment and supplies.
Today, under Mr. Weingarten's leadership, EMS is a well-organized and well-equipped service providing professional emergency care, all by highly-trained volunteers. Weston EMS is funded entirely by donations. Its services are provided for free.
"I wanted to be a doctor, but I couldn't pass chemistry," Mr. Weingarten told Weston Today. Instead, he graduated from Duke University, received a post-graduate degree in finance from NYU, and began a 45-year career with a large textile manufacturer. Somewhere along the way, "I caught the entrepreneurial bug," he said. He and a partner bought small under-the-radar companies, two of which he still manages.
Mr. Weingarten caught the EMS bug when he was convinced to join by his business partner's wife, who was already a member. He later moved into a supervisory role, "mostly because no one else wanted to do it," and became the service's Operations Officer in 1986.
In 1994, Mr. Weingarten also took on the role of EMS president somewhat reluctantly. "It was a difficult time," he said. "My wife had recently passed away, and I still had a big job in a big corporation. But I knew it was important. I decided to do my best and try to keep everyone happy. I figured my experience in corporate leadership would help build a structure and make the organization even stronger."
It wasn't that easy.
"It took years," he said, "to adapt to the differences between managing in a big company and running an organization like EMS. Volunteers have their own lives and personalities and all kinds of demands on their time. But it's still an around-the-clock job, so you have to understand there's a balance. It's more about people than just skills."
He is proud of the results. "We have a great management team, and over the past several years we've brought in so many high-caliber people. It's a big commitment and a big responsibility. They are incredibly compassionate and professional, and they give so much of their time."
"It's an honor to be recognized and acknowledged," said Mr. Weingarten, "but I really would prefer EMS as a whole get the recognition. That's more important. I think what they do is generous. It's good for the whole community."
The Citizen of the Year is named by Weston's Board of Police Commissioners. We imagine you will see a good number of Mr. Weingarten's EMS colleagues in the Town Hall Meeting Room at 5:00 on Wednesday evening as the Commission honors him for forty years of service.