The Big Memorial Day Weekend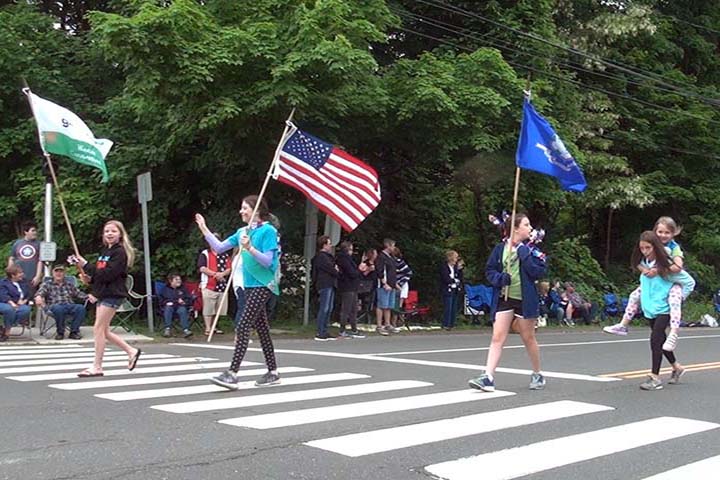 May 23, 2019 — This coming weekend offers the traditional Memorial Day Fair, a music festival, the 5K Road Race, a Little League baseball tournament, and, of course, a parade.
The Fair runs at Hurlbutt Elementary Friday evening through Monday afternoon.
The Red White and Blues Festival is at the Fair on Saturday, starting at 2:30 on the outdoor stage. It features ten acts of homegrown talent.
The 5K Road Race runs (and walks) at Weston High School on Saturday. Pick up race bibs or register in person Thursday and Friday at the Weston High School cafeteria from 3:00 to 6:00 pm.
Online registration for the 5K closes Friday at 6:00 pm. Online and on-site registration is $30 for the 5K Run and Walk and $10 for the Kids Fun Run. Bib pickup and registration will continue Saturday morning from 7:00 to 8:00. Registration at that time will be $40 for the Run and Walk and $10 for the Kids Fun Run.
The Weston Volunteer Fire Department's annual Parade is on Monday, starting on School Road and proceeding to Firehouse No. 1 on Norfield Road. Veterans are offered breakfast, lunch, and transportation.
Pool play for the Little League tournament runs Friday through Sunday. Championship games will be played on Monday, with schedules determined by pool play records. All games are at Biceglie Park, where the concession stand will be open.
Here is a master schedule for the weekend:
Friday
The Memorial Day Fair opens at 6:00 pm and closes at 10:00.
Little League Tournament
5:00: 9u vs. Ridgefield Orange, field 1
5:30: 10u vs. Westport, field 2
7:30: 12u vs. Westport, field 1
Saturday
Memorial Day Fair: 2:00 to 10:00.
5K Road Race, Walk, and Kids Fun Run
8:00 Kids Fun Run
8:30 Runners
8:35 Walkers
Little League Tournament
8:00: 8u vs. Westport, field 2
9:00: 11u vs. Westport, field 1
10:30: 10u vs. Poughkeepsie, field 2
2:00: 12u vs. Darien, field 1
3:30: 9u vs. Ridgefield White, field 2
4:30: 11u vs. Trumbull, field 1
Red White and Blues Music Festival (at the Fair)
2:30-2:40: WIS vocalist and guitarist Owen Bernheim.
2:45-3:00: Red Medal, an electric trio featuring Hurlbutt students.
3:05-3:25: Trio, an a cappella and acoustic group from Weston High School and Middle School.
3:30-4:00: Jazz with Karl, the legendary Middle School jazz pianist.
4:05-4:35: The Bar Car Band, Indie soul and rock and roll.
4:40-5:10: Bird Index, alternative rock.
5:20-6:00: The Shed, high energy rock.
6:05-6:55: Weston Jazz Collective, combos from Weston High School's jazz ensemble.
7:00-8:15: Kris (and special guests), Weston's jam band, reuniting from college and high school to kick off its summer tour.
8:20-9:00: Caravan, Weston High School's funk band.
Sunday
Memorial Day Fair: Sensory-friendly hours from 1:00 to 2:00, then general hours from 2:00 to 10:00.
Little League Tournament
8:00 8u vs. Westport, field 1
Monday
Memorial Day Parade
9:45 am (at the latest): Marchers gather at the school parking lot. 10:45: The parade begins.
A little later: a ceremony at the Town Hall Gazebo.
After that: hot dogs and beverages at Firehouse No. 1, courtesy of Weston Volunteer Fire Department, your parade hosts.
Veterans
8:30 am: Weston's Veterans Affairs Committee offers veterans a continental breakfast at Norfield Church Parish Hall and transportation to the Parade. Please RSVP by email to hutchandyou@gmail.com.
11:30 (approximately): After the memorial service at the Town Hall Gazebo, the committee offers veterans transport back to Norfield Church for lunch.
12:00: Veterans' lunch at Norfield Church.
Memorial Day Fair
The Fair opens at noon and closes at 4:00.