Wingman to Run at Weston Middle School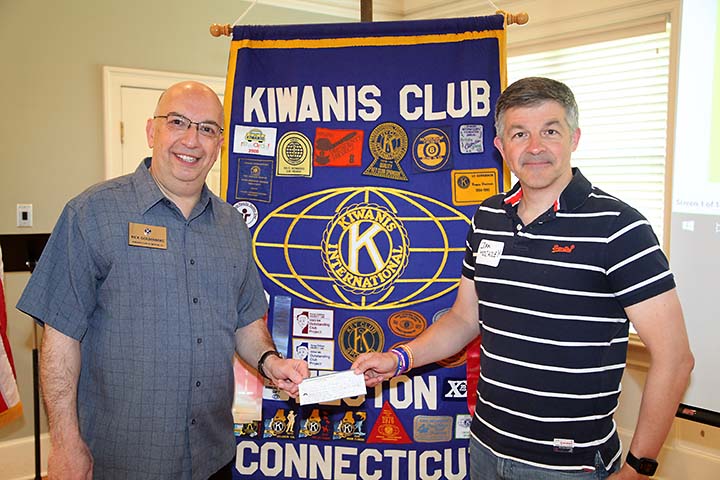 Photo: Jim McMorris
May 18, 2019 — A youth leadership program called "Wingman" will begin running at Weston Middle School. The program aims to inspire children to be more empathetic, courageous, and inclusive by connecting students, especially those who feel alone and isolated, with volunteer leaders.
On Saturday, Rick Goldenberg of Weston Kiwanis presented a $6,000 donation from the club to Ian Hockley, creator of the program and founder of the parent organization, Dylan's Wings of Change. (Both are pictured above.) The money was raised at a Kiwanis fundraiser in April. Wingman is also supported by the Middle School PTO.
The foundation is named for Mr. Hockley's son, Dylan, who died in the school shooting at Sandy Hook Elementary in 2012. The organization's website, where donations are accepted, notes that Dylan, an autistic six-year-old, "experienced more happiness, peace, and joy when those around him accepted, protected and included him in their activities and daily lives…when they became his Wingman."
The Wingman program comes to Weston with a solid track record throughout the United States and around the world. It exists in schools, dance studios, athletic clubs and summer camps.
Prospective leaders are currently being recruited at the Middle School. Applications have been distributed to students. An informational video is online here. A two-day training session will be held during school hours early next month.