Weston Middle School Musicians Perform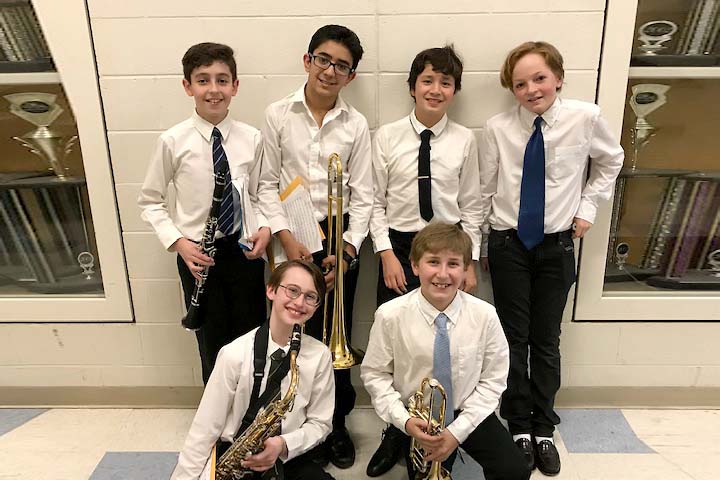 Photo: Luka Navaresse, Rohak Guida, Eliot Thompson, David Evans, Christian Seoane, Ben Doolittle.
May 12, 2019 — On Friday evening, six Weston Middle School musicians joined peers from other towns in the annual "Play with the Community Band" program in Westport.
Clarinet player Luka Navaresse, tenor saxophonist Christian Seoane, trumpet players Ben Doolittle and Davis Evans, trombonist Rohak Gulia, and percussionist Eliot Thompson all took part. It was the 23rd year the Westport Community Band has invited local middle school band directors to nominate second-year instrumental students to participate in the program.
The Westport Community Band is a non-profit organization affiliated with Westport Continuing Education. About 65 members come from all over Fairfield County. Some travel from out of state. You may have seen the band perform at Weston's fourth of July celebrations and other town events.
The musicians who participate work hard, attending several rehearsals and working with fellow students. Younger students are mentored by members of the band. The groups are led by longtime Westport Community Band director Sal LaRusso, who also conducts the WesWinds Ensemble at Wesleyan University and is an instructor of instrumental music at the Cider Mill Elementary School in Wilton.
This year's program was made possible by a grant from the Westport Women's Club.
Over its 23 years, response to the program from student musicians, school band directors, and parents has been overwhelmingly positive. One member of the adult Westport Community Band is a former student musician who is now a music educator himself.
In addition to mentoring students, the Westport Community Band performs at community events throughout the area, including appearances at the Levitt Pavilion, the annual Veteran's Day observance at Westport Town Hall, Westport's Memorial Day parade, the Weston Family Fourth, and musical visits to local nursing homes, senior centers, and libraries.
Schools from several towns participate in the program, including Weston Middle School, Wilton's Middlebrook School, Newtown's Reed Intermediate School, the Christian Heritage School of Trumbull, Tomlinson Middle School and the Unquowa School in Fairfield, Central Middle School in Greenwich, Ridgefield's Ridgefield Academy, and Norwalk's Side By Side Charter School.
Middlebrook School's participants are flute players Camryn Czarnecki and Maya Kesselman, clarinet players Allegra Basanese, Elle Hawthorne and Santiago Torres, alto saxophonist Arnav Pandey, trumpeters Piper Bittner and Lydia Hall, euphonium players Robert Eskenazi and Indiana Grossbard, and Matthew Garcia and Kieran Lenihan, trombone players.
Reed Intermediate School features oboe player Ella Grace Renak, flute players Dominick Hampton and Brooke Remson, clarinet player Sara Heinen, bass clarinetist Ava Almeter, and percussionist Ryan Michlovitz.
Christian Heritage student musicians are flutist Clara Boutros, clarinet player Max Kim, trumpet player Jessica Nagel, French horn players Erin Shipman and Sara Steinbach, euphonium player Cameron Beecher and trombonist Ella Flowers.
Fairfield musicians are alto saxophonist Phillip Kim from the Tomlinson Middle School and Eden Lewis, clarinet player from the Unquowa School.
Central Middle School is represented by flute player Liana Elliott, Ellie Nakami, clarinet, alto saxophone player Max Marek, trumpet player Lucina Baratta, euphonium musician Hiro Sibble, trombonists Jack Howes and Theo Rose, and on percussion, Michael Nogaki and Yosuke Taki.
The musicians from Ridgefield Academy are alto saxophonists Matthew Braunstein and Alex Ramos, trumpet player James Odyniec, and percussionist Lily Archibald.
The Side By Side Charter School musicians are flutist Chamiane Halimana and clarinet player Dinyar Unvala.