James Comey Speaks, May 7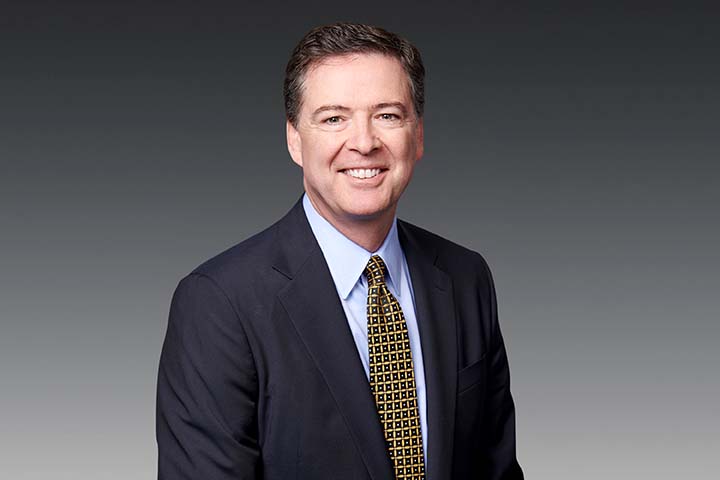 April 24, 2019 — Former FBI Director James Comey is the featured speaker at a luncheon for Child Advocates of SW Connecticut (CAC) on May 7 in Darien.
CAC is a non-profit organization that works with abused and neglected children. The annual "Love Luncheon" takes place at the Woodway Country Club in Darien. Tickets are available at the CAC website.
Mr. Comey and his wife, Patrice, are former Connecticut foster parents. According to CAC, Ms. Comey was instrumental in the passage of Connecticut legislation that expands support that abused or neglected children receive from court-appointed volunteer advocates. Last year, more than 8,000 Connecticut children were victims of maltreatment and over 4,000 were in foster care.
Mr. Comey's speech is titled "A Higher Loyalty to Our Most Vulnerable Children."
Nancy Rebold to be Honored
Weston's Nancy Rebold will be honored at the luncheon with the Distinguished Founder Award for her role in establishing CAC. She is a member of the organization's board of directors and has extensive experience counseling patients and victims of violence, abuse, and neglect.
Patricia Russo, Executive Director of the Women's Campaign School at Yale University, will serve as Master of Ceremonies at the luncheon.
Stacey Sobel, CAC's executive director, said the organization "appreciates the community support, especially with child abuse on the rise. We gratefully acknowledge the important work of over 150 CAC volunteer advocates who have donated their time and talent to improve the lives of hundreds of abused and neglected children throughout Southwest Connecticut."
About CAC
Founded in 2010, Child Advocates of SW Connecticut is a not-for-profit public charity that recruits, trains, and supervises community volunteers who advocate both in and out of court on behalf of abused or neglected children until they are in safe, permanent homes. CAC has trained over 150 local volunteers and is a member of the National CASA for Children Association. The organization will soon be renamed CASA of SW Connecticut.
CASA volunteers work one-on-one with children to ensure physical, psychological, educational, and emotional needs are addressed throughout the child protection system. They interact with judges, foster families, teachers, doctors, social workers, therapists, and attorneys. The aim is to make sure children and their families receive needed services, help judges move children out of the system. and reduce the odds that a child will be in foster care for a prolonged period of time.