The Arts in Bloom, May 3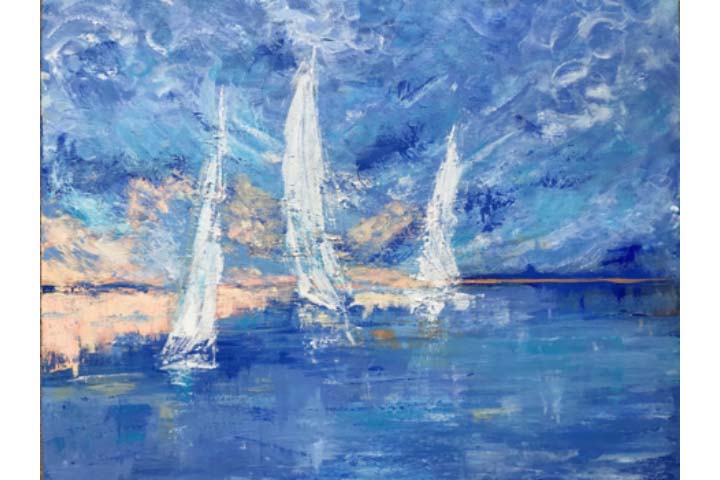 Photo: "Windsong" by Carole Ackerman
April 17, 2019 — To celebrate local artists, Emmanuel Episcopal Church presents its sixth annual "The Arts in Bloom" exhibition on May 3. Professional and amateur artists are invited to submit their original works for display and sale. Works by students are also welcome.
The committee organizing the event is looking for art in a variety of mediums, including paintings, ceramics, mixed media, textiles, collages, sculpture, glass, drawing, print making, and photography.
"The Arts in Bloom" takes place on the evening of May 3 from 6:00 to 9:00. Tickets are available online at a cost of $35 each. They will also be sold at the door.
It promises to be a fun evening. There will be a silent auction, live music, wine and cheese, other refreshments, and art-related door prizes. Flowers and plants will also be available for purchase.
Artists and art lovers will benefit, as the works on display will be offered for sale and auction. Local non-profits benefit too, as a portion of proceeds will go to WestonArts and New Paradigm Theater.
Artists will receive a minimum price requested for works sold. Artwork should not exceed 4' in any dimension or 100 pounds. Complete terms and conditions are found on the Artwork Submission Form on the Emmanuel Church website.
"The Arts in Bloom is more than an intriguing art exhibit," said Weston artist Linda von Rosenvinge. "It's a great opportunity to connect fellow artists with art lovers, all in the name of helping great local causes."
Artist entry fees are $25 for the first piece and $15 for subsequent work. The fee includes admission to the event. With identification, high school and middle school students qualify for reduced fees. Submission forms are due April 26. Instructions and applications are available here.
Art should be dropped off at Emmanuel's Parish Hall from April 29 to May 1 between 10:00 am and 3:00 pm. Artists who need to arrange an alternative drop off time should call the Emmanuel office at (203) 227-8565.