Plastic Out, Know Your Recyclables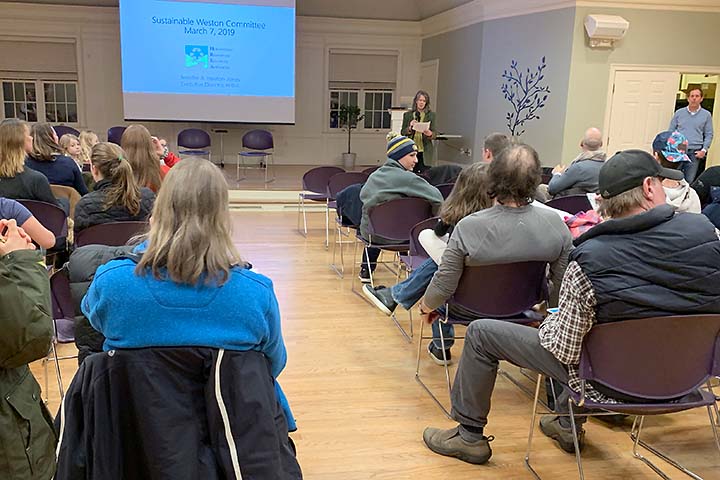 March 12, 2019 — A large number of Weston residents turned out last week for a presentation by the Sustainable Weston committee about recycling and what does and doesn't belong in blue bins.
In addition, on March 11, the committee's work to encourage reusable bags became a reality in Weston stores, where plastic checkout bags are no longer available.
Recycling and the Single Stream
You can expect to hear more about recycling in the days ahead, as some existing habits and practices are no longer effective.
Part of the problem is that the international market for recyclable plastic has shrunk as countries that once received it deal with their own environmental problems. Materials that carry impurities such as food and glass are no longer accepted in many countries.
As a result, much of what goes into blue recycling bins — straws, styrofoam, thin plastic wrappers and pizza boxes — is still destined for a landfill.
You can download and print a flyer to learn more about what should and shouldn't be in a recycling container.
Metal, broken electronics, and worn out clothes can be dropped off at the transfer station for free. The Town actually makes money from that.
Meanwhile, members of Sustainable Weston will be at Weston Shopping Center this coming weekend to provide more information about recycling. They will also be selling reusable bags.
Retail Checkout Bags
Weston joined a growing international community last autumn to ban plastic checkout bags in retail stores.
As of March 7th, Weston stores can only offer recyclable paper bags at checkout, at a charge of at least 10 cents per bag. The option for shoppers is to purchase or bring their own reusable bags.
The ten-cent charge is meant to defray the extra cost of paper borne by merchants. It is also meant to encourage reusables. Recyclable paper bags are better than plastic for the environment. Reusable bags are significantly better than either.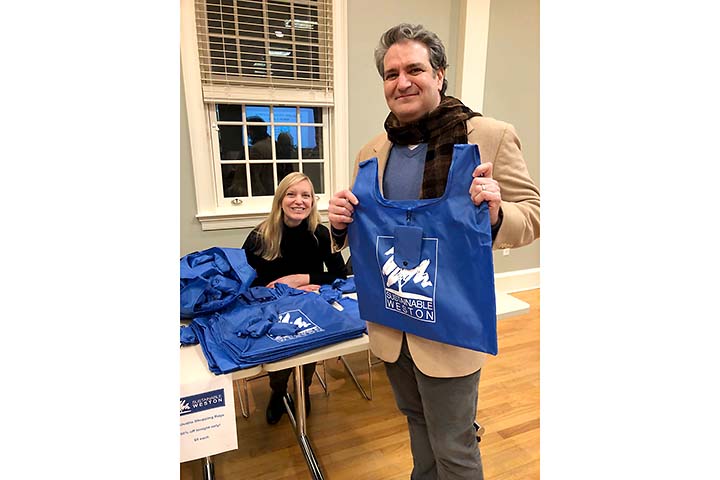 First Selectman Chris Spaulding holds a first-run reusable bag, donated by Weston Progress Fund. Also pictured: volunteer Sonia Skindrud.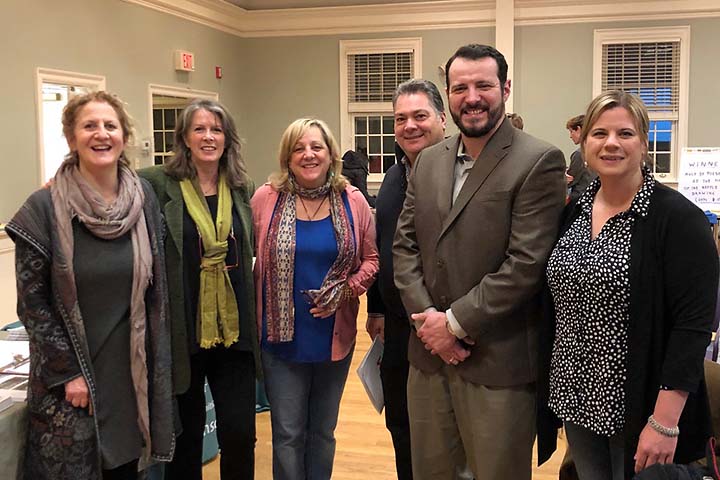 Right to left: Jennifer Heaton-Jones of Housatonic Resources Recovery Authority, Louis Burch of Citizens Campaign for the Environment, Lou Martirano, Weston Director of Public Works, Bonnie Sassano Troy, co-chair, Sustainable Weston Committee, Amy Kalafa, chair, Sustainable Weston Committee, Cathy Smith, of Norwalk River Watershed Association.