EMS: Stop the Bleed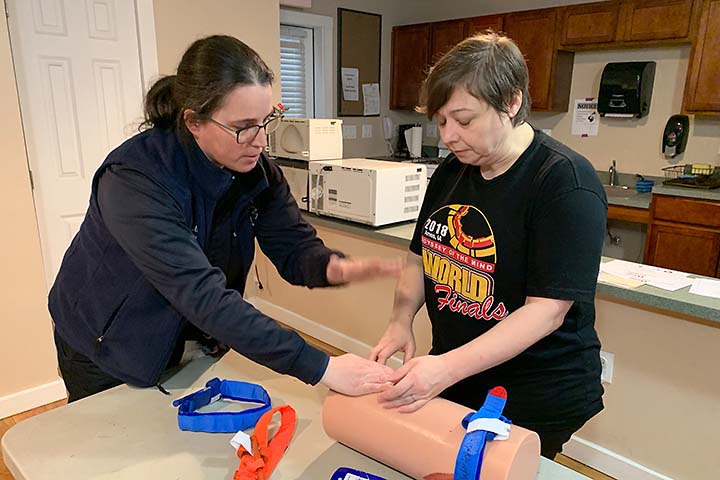 EMT Michelle Halpin trains Edina Field, a Stop the Bleed participant
March 1, 2019 — A person can lose all of their blood within five minutes. Uncontrolled bleeding is the number one cause of death from trauma, and many deaths can be prevented by people who know how to control it.
Participants in last week's "Stop the Bleed" training by Weston EMS learned what to do if they are the help before help arrives when someone is injured and bleeding.
The session took less than an hour. Like everything EMS does, it was free. The service plans to run more sessions on an ongoing basis.
"Stop the Bleed" is a program initiated by a federal workgroup. It applies best practices for hemorrhage control that were developed in military medical research.
The training got straight to the point. You learn what to do immediately in an emergency situation and what to do with different types of wounds.
You may also learn, as one participant did (this one), that some of what you were taught in your youth about treating wounds is wrong.
EMS's Michelle Halpin conducted the training, assisted by Ariana Shlansky, Chris Bradbury, and Julia Braden.
We will take this opportunity to mention that EMS is an all-volunteer service that is looking for a few good men and women. Visit the EMS website to learn more about how you can be part of the team.
We may as well also mention that EMS operates solely by donations, not taxpayer dollars. You can make a donation online here.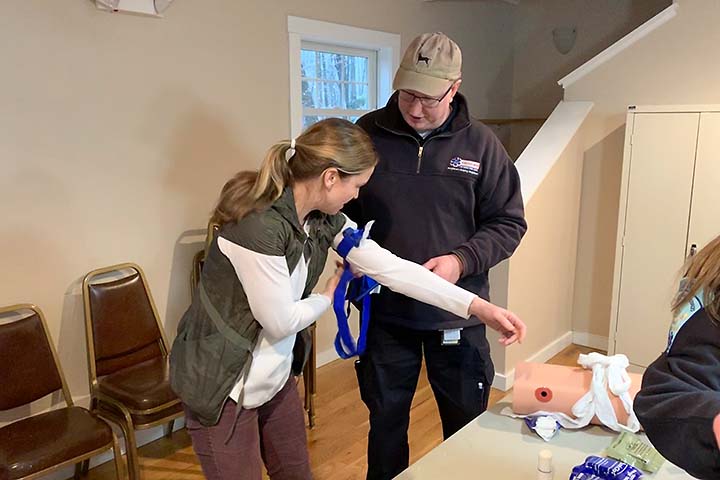 EMTs Ariana Shlansky and Chris Bradbury demonstrate the proper use of a tourniquet