Broadway: the Inside Story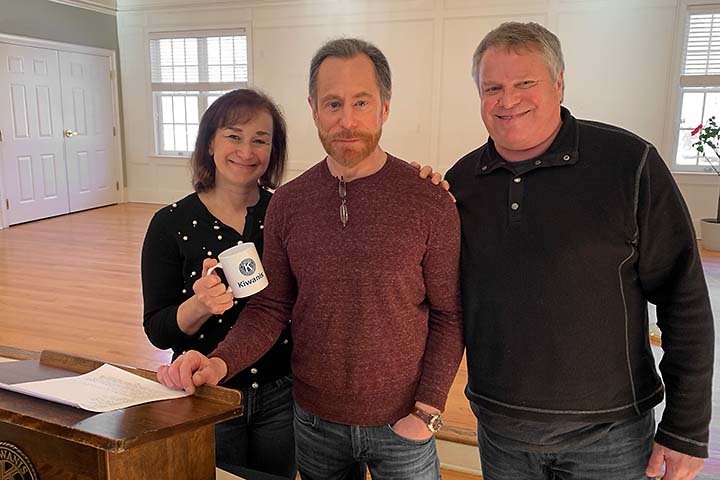 Photo: Barbara Marks, Alan Marks, David Weber of Kiwanis
February 18, 2019 — Weston Kiwanis members and guests got a rare insider's view of theater life when Broadway producers Alan and Barbara Marks spoke at the club's weekly breakfast meeting on February 16th.
The couple, who have a home in Weston, won the Tony award for Best Musical two years ago for "Dear Evan Hansen," which the Washington Post called "one of the most remarkable shows in musical theater history." Other credits include "After Midnight," "Master Class," "Finian's Rainbow," and the team have a hand in "Hamilton."
Kiwanis meetings are open to everyone, and the club will even give first-time visitors a great breakfast on the house.
Theater fans will remember headlines about the Marks's first production, a 2008 revival of David Mamet's "Speed the Plow." The show starred Jeremy Piven, and opened to rave reviews. But just before the peak holiday season, Mr. Piven withdrew, claiming he had suffered mercury poisoning by eating bad sushi. A scramble ensued to save the production.
In addition to stories about major theater stars, Mr. and Ms. Marks shared insight about the business of Broadway.
Show Business Like No Business
Mr. Marks said theater has no equivalent of Hollywood's studio system. Every production is a company, an individual business enterprise, and the producer is CEO, responsible for all that happens on stage: hiring a director, a casting agent, actors, writers, choreographers, composers, lyricists, negotiating with a theater, and everything else.
Producers don't own a show. Mr. Marks said they only "rent the right to present the work of other people for a certain period of time." Everything is a collaboration. A producer "can't change a word of the script, a note of a song, or a step in the choreography" without the consent of creators.
According to Ms. Marks, producers work in a small world. There are only 41 Broadway theaters. Many of them have established, long-running shows, which means new productions compete for a stage in only three or four available venues.
It is also a financially risky world. Mr. Marks said 80 percent of Broadway shows do not make money, and the costs are enormous. Ms. Marks estimates the average Broadway musical costs $15 million to launch, may take seven years or more to go from concept to opening night, and takes years just to break even.
Hits and Misses
The shows that do make money tend to make tons of it. Hits like "Hamilton" and "Chicago" generate hundreds of millions in profits. Mr. Marks quoted an adage: "You can't make a living in the theater, but you can make a killing."
And sometimes it just doesn't work out at all. A few years ago, Mr. and Ms. Marks made a large investment to develop a musical called "The Last Goodbye," a brilliant concept inspired by the music of the late Jeff Buckley, who in turn had been inspired by "Romeo and Juliet." A tryout in San Diego was promising. But the show needed changes to go to the next level, and the producers and creative team couldn't agree on what changes to make. So, in this case, the show didn't go on.
Today, with a solid record of success, the couple has high hopes for a new production about Jean-Michel Basquiat, the one-time graffiti artist who, said Mr. Marks, "changed the landscape of contemporary art" in the gritty New York of the early 1980s. They are excited about the big-name Broadway figures who will be involved.
Saving the Plow
A big name was needed to save "Speed the Plow" when Mr. Piven mysteriously departed. After a week of an understudy filling in, Mr. and Ms. Marks landed the great William H. Macy. Despite having little time to memorize the script, Mr. Macy's first night was, said Mr. Marks, "fantastic," even though he had to improvise lines and go "off book" at times.
When the curtain came down, Mr. Marks said he grabbed Mr. Macy by the arm and told him his performance was "incredible." The veteran actor replied: "I was never so scared in my life!"
His actual remark was somewhat more colorful, but this is a family newspaper. You had to be there.
And you could have been.
Weston Kiwanis welcomes guests for their Saturday morning breakfasts. Guest speakers usually start around 9:15. You can see who will speak each week on The Calendar. Breakfast is served at 8:30, and it's terrific. It's also free if you are a first-time visitor. Just call David Weber at (203) 451-7888 to let the club know you are coming.