WHS Company: Broadway Bound at Emmanuel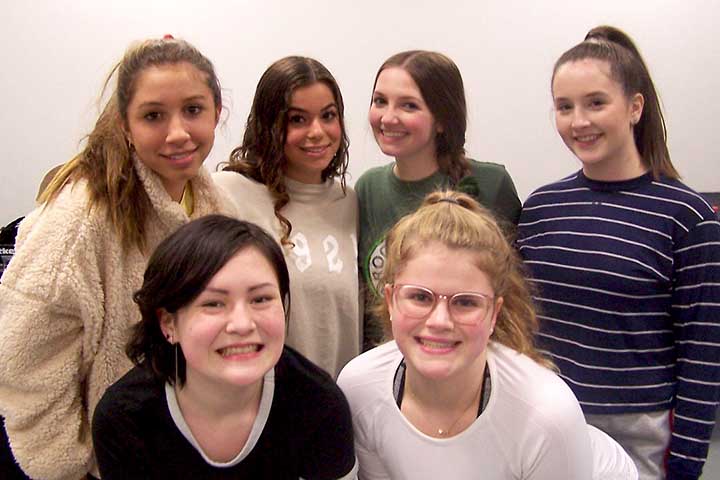 February 18, 2019 — On Sunday, February 24, Weston High School's theater group, "Company" performs scenes from its upcoming spring musical comedy, The Addams Family at "Broadway Bound," which is becoming an annual town tradition at Emmanuel Church.
The show also features a short program by the faculty of Weston Music Center. It all starts at 4:00 on Sunday afternoon, and runs to 5:30. If you're new in town, Emmanuel Church is at 285 Lyons Plains Road.
Company's The Addams Family debuts at the end of March, but this preview is free (with donations always welcome) and is a family-friendly outing with door prizes and a bake sale.
WHS Company is a student-run theater organization founded in 1984, and is the high school's largest club. The spring show is directed by Liz Morris and co-produced by Beth Lubliner, Patricia Perez Goodrich, and Paul A. Levin.
The Weston Music Center faculty will perform waltzes by Brahms, minstrel songs by Glazunov, songs by George Gershwin, and Prokofiev's Cello Sonata in C Major. The group's members include accomplished musicians Allen Brings, Genevieve Brings, Adam Grabois, Margarita Nuller, Steve Lewis, and Wei Tan, all of whom are prominent artists in the greater Connecticut music scene and beyond.
The full production of Company's The Addams Family runs from March 28 through the 31st. The curtain comes up at 7:30 pm, with an extra matinee on Sunday at 3:00. Advance ticket sales begin soon: $15 for adults, $10 for students and seniors, available online. You will also be able to purchase tickets at the door.
For more information about the preview at Emmanual Church on February 24, visit the church website, call the parish office at (203) 227-8565, or contact Company by email.
The Addams Family cast includes Ben Rose as Gomez, Sophie Lang as Morticia, Remy Young and Momo Burns-Min as Wednesday, Lucas Casellas as Pugsley, Josh Ronai as Uncle Fester, and Andrew Pappas as Lurch.
The cast also features Will Berger, Lucas Casellas, Jane Burdett, Erin Dillon, Garrett Landen, Julia Lawless, Jonathan Eiler, Jennifer Purcell, Patrick Betsworth, Hannah Chayet, Arcadia Kittlesen, Brooklyn Boehme, Lauren Lakra, Lianna Accettullo, Audrey Mbwa-Mboma, Jonathan Eiler, Evelyn Miano, Mackenzie Lehman, Chris Burns, Abby Glasberg, Maddy Kovel, Marc Lubliner, Zaina Dove, Peri Ferdinand, Samantha Meir, Charlotte Relac, and Tejal Dhiman.
Photo, Hope Goodrich. Cast members. Back row, from left: Samantha Meir, Zaina Dove, Charlotte Relac, Erin Dillon. Front row, from left: Momo Burns-Min, Peri Ferdinand.