Senior Center Programs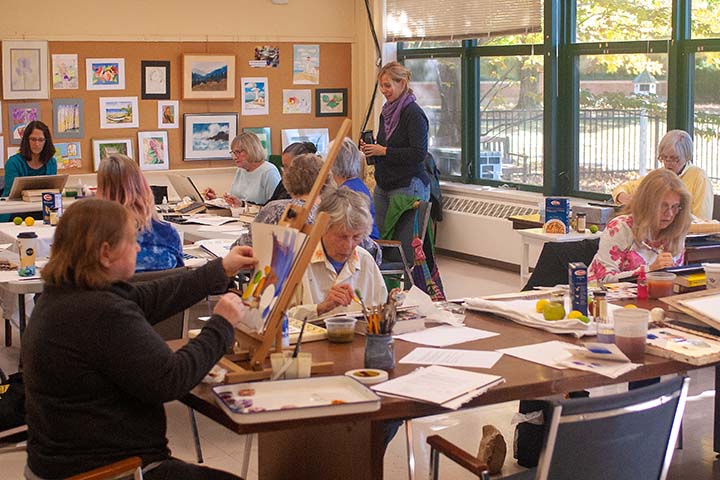 January 21, 2019 — Weston's Senior Center has a growing number of popular arts and fitness programs, and if you are at least 55 you can take advantage of them.
All programs are taught by highly skilled instructors who make each session fun.
Here are the arts programs, schedules, and pricing. You can find the fitness programs here.
Call the Senior Center at (203) 222-2608 for more details.
Watercolor Class with Wendy Pieper
Thursdays, 10am-12pm, January 10, 17, 24, 31, February 7. $25 for this series, prorated for those joining late. Sign-up is required.
Have you ever wanted to learn to paint in watercolors? Or brush up on your skills? Join artist Wendy Pieper for a fun and energetic class. This class is open to beginners and intermediates alike. You will work from still life, landscape (from your own photos or outside if weather permits) and the figure if there is class interest (model fee will be additional). Basic drawing, composition and watercolor techniques will be demonstrated. Participants must provide their own supplies.
Watercolor with Karen Siegel
Thursdays at 9:30am. $10 drop in fee.
Join Karen for watercolor instruction, for this ongoing drop in class. Learn the basics while enjoying good company with other art students. Bring your own supplies or drop in and see a class.
The Basics and Beyond With Chris Goldbach
Tuesdays, January 8, 15, 22, February 5, 12, 19, 10am-12pm. $30 for this series, prorated for those joining late. Sign-up is required.
In this course students may paint or draw in any medium of their choice. Lessons will cover basic to advance techniques both specific and common to these mediums. Visual elements like color and composition will be discussed. Students will also be encouraged to explore personal choices in subject matter, themes and styles, as they work at their own level, with lots of instructor input.
Gelli Plates Workshops with Missy Savard
Tuesdays, January 22, February 5, 19, 12:30pm-3:00pm. $15.00 for each workshop, plus $5.00 for supplies. Sign-up required.
Join us for a fun workshop of printing on Gelli plates! This is an impromptu process that gives immediate gratification and can lead to thoughtful pieces of strong design. Each piece is unique and a result of individual stenciling, color and process. The possibilities are endless and final works can be used later as greeting cards, fine art images or collage. Sign up for one or all of these workshops!
Pastel workshop with Jane Wolf
Wednesdays, March 20, 27, April 3, 10, 17, 24, 9:30am-11:30am. Class is free, $10.00 supply fee only.
Are you interested in learning how to use pastels? Pastel is an immediate, versatile pure-pigment medium compressed into stick form and used on sanded paper. It is one of the oldest art forms which has recently found a contemporary audience. Notable pastel artists include Edgar Degas, Mary Cassatt, Mary Silverman and Wolf Kahn. Classes will start on Wednesdays in March. Materials will be provided and there is no fee for this series! Let us know if you are interested in signing up! Jane is a Signature Member of: the Pastel Society of America, Allied Artists of America, Audubon Artists, Inc., and the Salmagundi Club, NYC.
Mixing Colors with Judith Lambertson
Starting April 15th: Judith Lambertson will be back for another fabulous four part series on Mixing Colors using a limited palette. A new still life object will be painted each week and by using 7 tubes of paint, you can make a beautiful array of colors. The colors will be labeled and made into your own color books.