Weston Wins Longshot Grant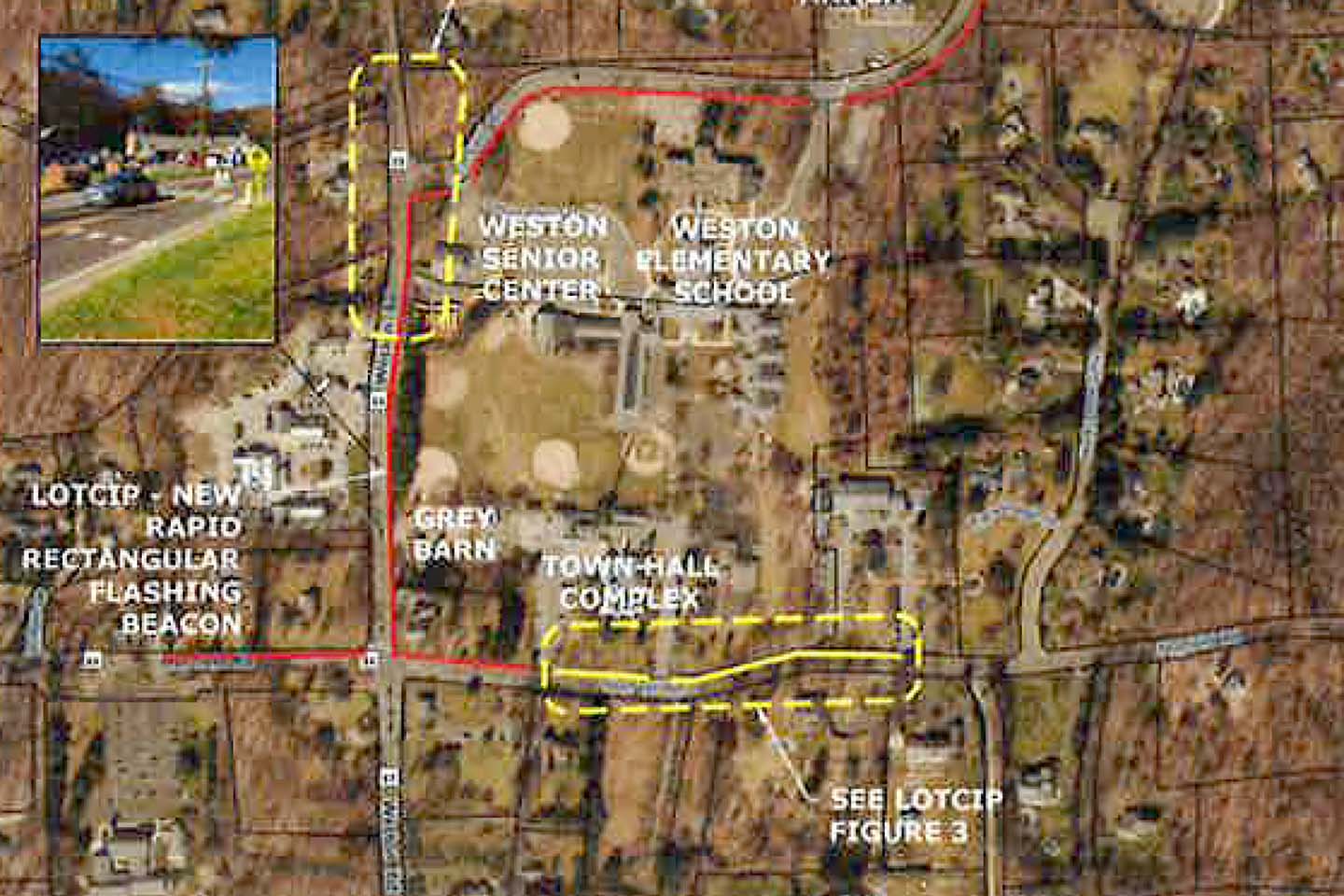 January 18, 2019 — After winning a $396 thousand state grant in August to build a network of sidewalks in town, First Selectman Chris Spaulding and Town Administrator Jonathan Luiz decided to try a "Hail Mary" and go for another $1.5 million to expand the network and improve the intersection of Route 57 and School Road.
They got it.
On January 17th, the Western Council of Governments (WestCOG) approved the application. Combined with the August grant, Weston will receive nearly $2 million in funds that originated in Washington, were passed to the Connecticut Department of Transportation, and eventually sent to WestCOG for distribution.
WestCOG is a council of the top elected leaders of 18 member towns and cities in Weston's region.
The Sidewalks
Costs for design will be paid by the Town from funds already appropriated. The walkways envisioned in both grant applications will be combined into a cohesive whole.
Concrete sidewalks and gravel paths will connect Town Hall, the Library, the Senior Center, the schools, the shopping center, and St. Francis of Assisi Church. From the Town Hall campus, they will also run up to Norfield Church. From the Middle School, they will circle Revson Field and extend up both sides of Lords Highway to Old Hyde Road.
"This is tremendously exciting," said First Selectman Spaulding. "It's the first time Weston has received a grant from WestCOG. In addition to making the town more walkable and pedestrian-friendly, it will enable us to solve a traffic problem we could probably never afford on our own."
The Intersection
The intersection of Route 57 and School Road has long been congested at school drop-off and pick-up times and a frequent scene of accidents.
With the grant funds, a 150-foot right turn lane will be built on the northbound side of Route 57 at School Road by cutting into some of the area used by the bus depot. On the other side of the road a "bump out" will allow motorists to safely pass on the right as cars line up to make a left turn.
The intersection's traffic light will be replaced, and these things are expensive: $250 thousand, according to the estimate.
Construction will occur in summertime, but at this writing it is not clear if it will be done this coming summer or in 2020.
In the photo at the top of this article, the red line indicates where sidewalks will be built based on the grant approved in August. The yellow line shows the intersection and where sidewalks will also be built on Norfield Road up to the church.
In the photo below, the yellow line shows the path of sidewalks from the Middle School, around Revson Field, and going up Lords Highway.
More background on the $1.5 million grant application can be found in our previous article.