"Play Ball for All" a Home Run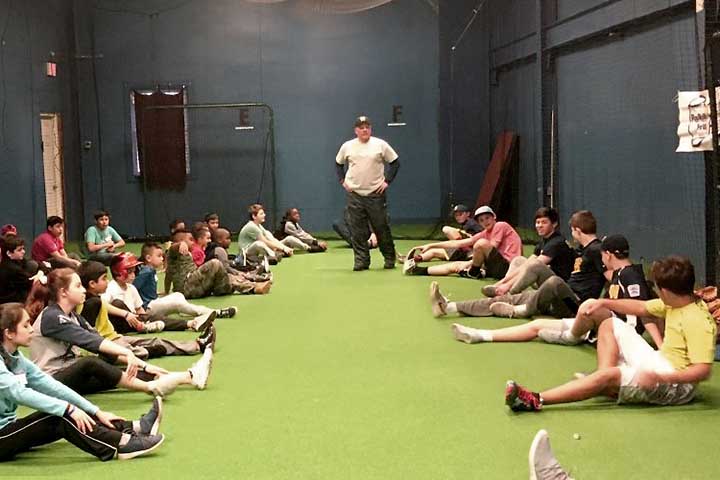 December 10, 2018 — Saturday's free "Play Ball for All" holiday clinic was a success for participants and Weston volunteer coaches and teen mentors.
It was all about baseball fundamentals for more than 20 children, ages 8 to 13, from the Norwalk-based Child Guidance center of mid Fairfield county. A group pizza party followed, and we're giving a shout-out to Planet Pizza in Norwalk for donating the pies.
Mike Komar, Mike Hensinger, Brian Haberman, and Bob Barasch provided the coaching, assisted by young Weston athletes Andrew and Chris Amato, Luke Dionian, Noah Haberman, Sam Hensinger, Chris Komar, Sam Landesman, and Luke Barasch.
The mission of "Play Ball for All" is to bring the game of baseball and its life skills to underserved youth from Weston's surrounding communities and provide early leadership opportunities to the teens who pitch in, along with an increased awareness of local youth issues.
Founder Bob Barasch said "our volunteer coaches and teen mentors really shared their passion and skills for a positive afternoon of baseball and bonding."
The non-profit Child Guidance Center is the largest provider of child mental health services in the region. Each year its team of psychiatrists, psychologists, and clinical therapists help more then 600 children and 1,500 family members in Norwalk, Westport, New Canaan, Weston, Wilton, and Darien.
The Child Guidance Center provides services in both English and Spanish to families regardless of their ability to pay. For more information, visit the Center's website.