Alden Sherman, 100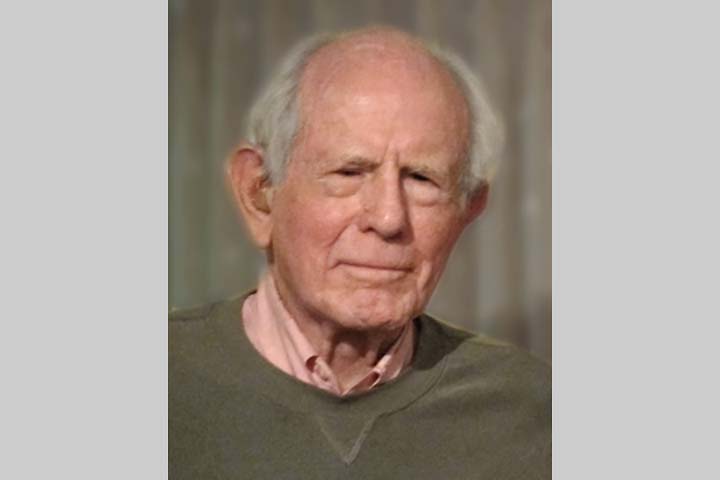 November 20, 2018 — Alden Outram Sherman, 100, of Weston died November 10, 2018 at Norwalk Hospital.
He was born to the late Avice Lauretta Rabbitt and Outram Willett Sherman on May 6, 1918 in Rye, New York.
He and his family moved to Westport in 1947 and then to Weston in 1956. He lived in the same Weston house at the time of his death. It had been built by a local carpenter, with only a handshake as the agreement. Even at the end of his life, he was known for the strength of that handshake.
Sherman attended a one-room schoolhouse in Mahopac, New York and graduated from the high school there.
As a self-taught engineer, his original and innovative inventions and processes in the aerospace field were highly respected. Even as a young man, industry experts called upon him for design advice. In 1950, he and his wife, Dorothy Nolan Sherman, who pre-deceased him in 2009, founded the Alden O. Sherman Co., Inc. Known for exceptional work manufacturing gas turbine engine vanes and other components, the company supplied the major engine manufacturers in this country and in England. His daughter, Jane Sherman, worked with him for thirty years, as President for the last twelve.
In 1963 he built a prototype hovercraft he hoped to manufacture, test driving it over ice on Candlewood Lake at great speed. His project was covered by all of the local publications. He decided not to manufacture them, however, due to insurance liability concerns.
Alden Sherman was known for his collection of beautiful vintage cars, and for regularly driving them all over the area, whether to an event or the grocery store. He showed them in regional car shows for more than 60 years, winning many awards. In 1959, he bought two Bugatti race cars in boxes and over the next 17 years, repaired and assembled them, making the missing parts on his own equipment, conforming to the original.
For five years, beginning in 2012, Weston's "Alden Sherman Classic" became a popular annual car show. With his wife, Jo, by his side, this event successfully raised funds for the Weston Senior Center and drew classic car enthusiasts from all over the Northeast. Alden's cars were featured, along with many other elegant automobiles.
Alden was an expert on clocks and restored the works and cases of many antique shelf and tall clocks. He appreciated the beauty and intricacy of watch and clock mechanisms and repaired his own. He often helped friends with their projects in his basement shop.
Interested in local history, he was active with the Weston Historical Society for many years and served on its Board of Trustees. The Sherman family has been in Fairfield County since before the Revolutionary War. He was a descendant of Roger Sherman, an early American statesman and the only founding father who signed all four great documents of the United States, including the Declaration of Independence and the Constitution. Like his famous ancestor (who was also self-taught), Alden excelled in engineering and mathematics, coupled with a unique Yankee ingenuity.
Sherman was involved with Owls Head Transportation Museum in Maine, especially their antique aircraft events. He also served as a Trustee and on the Board of Advisors for the American Precision Museum, in Windsor, Vermont, as did his daughter, Jane. He was a Trustee for the Sandwich, New Hampshire Chapman Sanctuary and Visny Woods, and rarely missed a meeting. He was an early member of the American Bugatti Club and participated in many rallies and events. Recently participating in the 10th U.S. Bugatti Grand Prix International Tour in Saratoga Springs, he was delighted to meet up with many old friends from all over the world.
He is survived by his wife, Johanna Shields (stepchildren, David and Hannah Dickison) of Weston and Westport; his daughter Jane Sherman of Westport; his granddaughter, Susan Sherman, and her husband Jim Cooper, of Norwalk; and his grandson, Michael Shermanheld, of Bridgeport; he is also survived by his great-grandson, Trevor Sherman Cooper.
There will be a memorial service at 3:00 PM on Friday, November 30th at the Unitarian Church in Westport, 10 Lyons Plains Road, Westport.