Weston High Chorale Performs at Smart Walk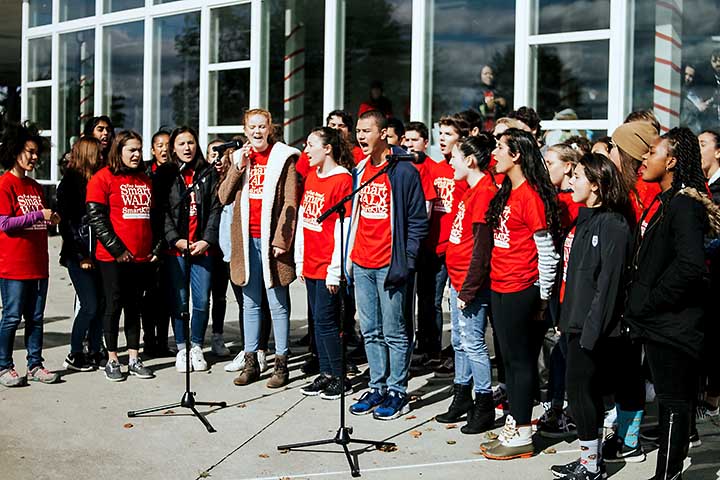 — Contributed photo: Rudolfo Sanches Carvalho.
October 31, 2018 — The thirty-member Weston High School Chorale sang the inspirational "This is Me" on October 21 at the first annual Smart Walk for Smart Kids with Learning Disabilities at Sherwood Island State Park in Westport.
The event raised nearly $50,000 for Smart Kids with Learning Disabilities, a Westport-based nonprofit that provides educational programs, youth mentoring, parent networking and extensive resources for families.
Robert Tudisco, a nationally-known disability rights attorney, who is an adult diagnosed with ADHD, opened the ceremony. Mr. Tudisco encouraged youngsters with learning disabilities to believe in themselves.
First Selectman of Westport Jim Marpe and Second Selectwoman Jennifer Tooker lent their support. Children enjoyed games, face painting, a photo booth and activities which included creating stress balls with the help of Sensory Kids.
At the end of the event, families, individuals, and teams walked a scenic route at their own pace. More than 25 volunteers made Smart Walk a success.
Smart Kids with Learning Disabilities (SKLD) was founded in 2000. The organization has chapters in Stamford/Greenwich, Westport/Wilton, Northern Fairfield County, and Hartford. Its mission is to educate, guide, and inspire parents of children with learning disabilities and ADHD.
SKLD helps parents realize their children's significant gifts and talents, and shows that with their love, guidance, and the right support, children can live happy and productive lives. For more information, visit www.smartkidswithld.org.