Eva Schloss Speaks on Sunday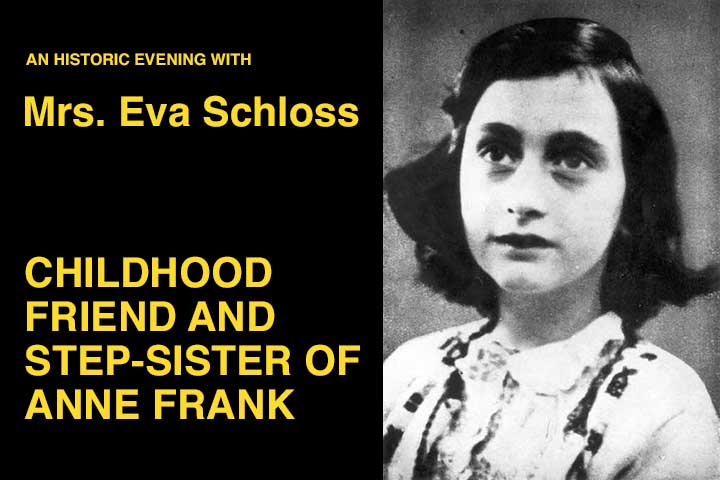 UPDATE: At 6:15, at the conclusion of this scheduled event, a vigil will be held for victims of the Pittsburgh synagogue shooting.
October 26, 2018 — Eva Schloss, stepsister and childhood friend of Anne Frank, will be speaking at 5:00 on Sunday evening, October 28, at at Klein Memorial Auditorium, 910 Fairfield Avenue, in Bridgeport.
Mrs. Schloss will tell her compelling story of surviving the Holocaust, rebuilding her life, and establishing herself as an internationally respected humanitarian. The event is suitable for teenagers and adults of all faiths.
This past year, a documentary by The New York Times depicting Mrs. Schloss participating in a virtual Holocaust testimonial project was among ten contenders for the documentary short subject category at the 90th Academy Awards.
"Eva is a courageous individual who works tirelessly to end the violence and bigotry that continues to plague our world," said Rabbi Shlame Landa of Chabad of Fairfield, the organization sponsoring the event. "We are honored and excited to host this great person."
Mrs. Schloss's visit brings added significance, as this year marks 80 years since Kristallnacht.
General seating is $25 for the general public and $10 for students. Premium seating and VIP tickets are available as well. For more information and to purchase tickets, visit www.chabadff.com/4108700.
At this writing, we understand only 20 VIP passes remain available. VIP passes entitle holders to premium seating, reserved parking adjacent to the theater, an exclusive reception and photo opportunity with Mrs. Schloss, and a signed copy of her book.
Teenagers are invited to a special pre-event Meet & Greet with Mrs. Schloss. This will take place in the lobby adjacent to the theater balcony.
We are told that parking is available directly across the street from The Klein in a lot on Iranistan Avenue. The lot has attendants to assist you and is well-lit. The charge is $5.