Westonstock, September 15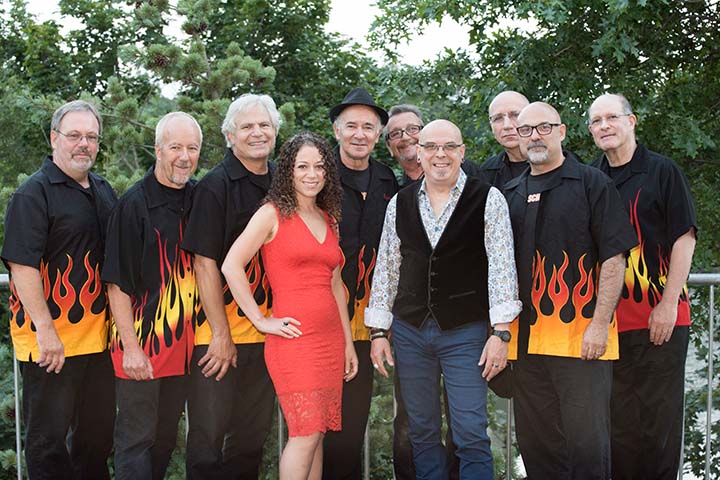 September 11, 2018 — In retrospect, it's clear that every event in this summer's terrific Music at the Barn series at Weston Historical Society's Coley Homestead was cleverly designed to reach a crescendo this Saturday, the 15th, at "Westonstock."
The concerts were connected with the Society's Life in the Sixties exhibition, which remains open through October. The series had it all: folk, R&B, soul, jazz, blues, the British invasion, Motown, psychedelic, and good old-fashioned rock and roll. In other words, all the major genres of the sixties or, as director Roger Kaufman put it, "absolutely none of today's favorite music."
Westonstock brings it all together in six hours of music, starting at 2:00 on the 15th at the Coley Homestead, 104 Weston Road. Three bands comprising 22 musicians — plus maybe a few surprises — will cover the musical waterfront. And of course, there will be food and fun stuff for all ages.
Mr. Kaufman is a veteran promoter, and runs Old School Music Productions in Westport. His band, the Old School Revue, will perform at Westonstock with The Saugatuck Horns. We asked him about the music.
"People who were around in the sixties will get a chance to relive some of the experience," said Mr. Kaufman. "Younger people will get a chance to learn, find out what it was all about, and just enjoy it."
"In the sixties, everyone talked about the generation gap," he said. "We were so different from our parents in terms of values, and tastes, and styles. When you think about it, there's a similar gap between generations today, especially in music."
"There are parallels today to themes of the sixties. Young people today are very focused on social justice, civil rights, gender rights, the environment, and equality. Just as we were back then."
As for Westonstock's music, he said, "We've stacked the deck with talent to recreate the peaceful, purposeful, communal feeling of Woodstock. The main thing people can expect is to have fun. But it will be the music of the sixties, not just of Woodstock."
"We'll pay homage to some of the major figures, but it won't be a greatest hits show. We'll certainly do some of the classic three-chord hits, but also the big art of the Dylans and Joni Mitchells of the era."
A Wide Range of Attractions
The Historical Society is doing it up right. There will be crafts and activities for kids. Local vendors will sell a variety of arts and crafts. There will be a music trivia contest, sixties dance demonstrations, hula-hooping, and more. Junior's Hot Doggin' Food Truck and Olive & Julip Craft Cocktails will be on site, along with other food and beverage suppliers.
To round out the sixties experience, vintage cars from the era will be on display from Dragone Classic Motors and Blackbridge Motors. So bring a lawn chair or blanket, and enjoy the day.
Pam Kersey, the Historical Society's president, is excited about Westonstock and told us the entire Life in the Sixties series has been very successful. "People have been very engaged by sharing their memorabilia," she said. "A lot of people got involved, including the schools. There were music events and student events. The fashion exhibit was very popular. We saw a lot of people we hadn't seen before, and a lot of visitors from other towns. It's been very rewarding."
Tickets for Westonstock are available online, priced at $20 for Weston Historical Society members, $25 for non-members, and $5 for kids. They will also be available at the door.
The Weston Historical Society always likes to thank its annual sponsors: Fairfield County Bank, Cohen and Wolf P.C., Jet Blue, and KMS Partners at Coldwell Banker. Special thanks to Life in the Sixties sponsors Teed and Brown and Aspetuck Valley Country Club for making Westonstock possible.
For more information about Westonstock, visit the Society's website or call (203) 226-1804.