Westonstock, September 15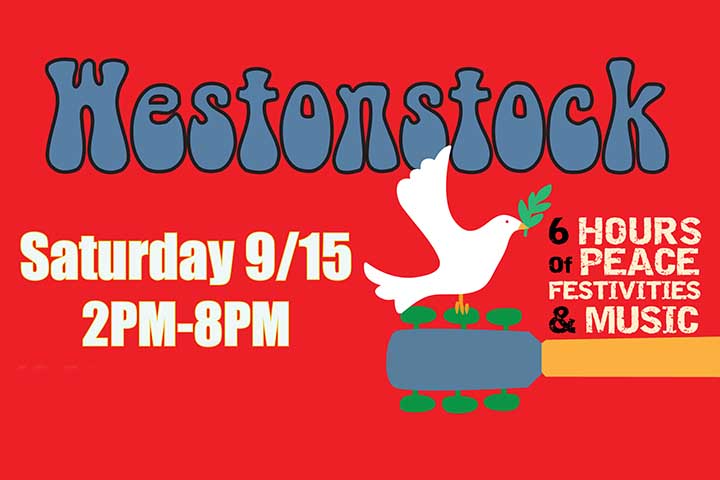 August 29, 2018 — The Weston Historical Society's summer-long Life in the Sixties exhibit and series draws to a memorable conclusion with Westonstock, a joyful tribute to 1969's Woodstock music festival. It all takes place at the Coley Homestead on Saturday, September 15 from 2:00 pm to 8:00 pm.
Westonstock features three bands, 15 musicians, a 60s car show, and crafts and activities for the kids. The Coley Homestead is at 104 Weston Road.
The Old School Revue will perform, as will popular New York Vocalist Susan Didrichsen with The Saugatuck Horns, a versatile six-piece classic 60s R&B band decked out in vintage 60s attire.
About a dozen other artists will perform as well, spanning the era's musical genres: Early Folk, Beatles/British Invasion, Motown, Classic 60s Soul and R&B, Psychedelic, Soft, Hard and Kitsch Rock.
The roster of artists includes The Bar Car Band, Frank Barrese, Chance Brown, Rob Carlson, Crispin Cioe, Chris Coogan, Bob Cooper, The Cinnamon Girls, Billy Foster, Charlie Karp, Roger Kaufman, Joe Kos, Tyger MacNeal, Joe Meo, Big Steve Silver, Jeff Southworth, and David Weber. There may even be a few special surprise guests.
To round out the 60s experience, vintage cars will be on display to take you back to the golden age of the American automobile. Many of the vehicles will be on loan from Dragone Classic Motors, including VW Beetles and vans. In addition, local vendors will sell a variety of arts and crafts.
Other attractions include a 60s music trivia contest, 60s dance demonstrations, hula-hooping, and more. Junior's Hot Doggin' Food Truck and Olive & Julip Craft Cocktails will be on site, along with other food and beverage suppliers.
Bring a lawn chair, blankets, and enjoy the day.
A Trip Back in Time
"The Historical Society hopes to take visitors back to the 60s with this exciting community event," said Pam Kersey, president of the Weston Historical Society. "Come and spend an hour or the entire day on our three-and-a-half acres of open field and museum space. Proceeds will support our renovation projects of both the historic Coley Barn and Coley Farm House."
The event is being coordinated by Roger Kaufman of Old School Music Productions, who said "This might not be Yasgur's Farm, but it will be a fun-filled day of peace, love and treasured 1960s music from all genres. Just what we need!"
Tickets are available online. Advance tickets are available now through September 1. Advance tickets are $15 for Historical Society members, $20 for non-members, and $5 for kids. After September 1, the prices are $20 for members, $25 for non-members, and still $5 for kids. Tickets will be available at the door the day of the event.
The Weston Historical Society always likes to thank its annual sponsors: Fairfield County Bank, Cohen and Wolf P.C., Jet Blue, and KMS Partners at Coldwell Banker. Special thanks to Life in the Sixties sponsors Teed and Brown and Aspetuck Valley Country Club for making Westonstock possible.
For more information about Westonstock, visit the Society's website or call (203) 226-1804.