A Bell for Prue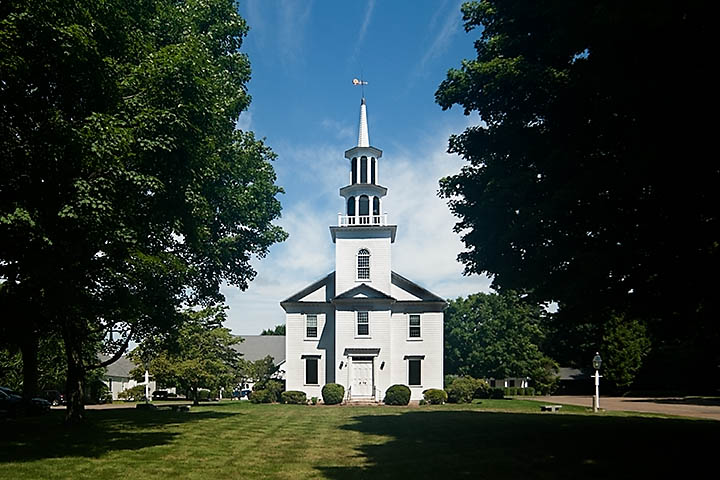 The bells at Weston's historic Norfield Congregational Church have been silent this year, but in a touching ceremony on Tuesday, July 31, all that changed. The steeple bell was brought back into service and a new one — the Prue Bliss Memorial Bell — was installed in the Banks Room behind the main sanctuary. It was donated by former First Selectman Woody Bliss.
In January, an inspection confirmed that the old steel bell in the Banks Room cupola was aged and damaged beyond repair. At the same time it was discovered that the frame and yoke holding the 800-pound brass sanctuary bell had deteriorated, along with its clapper, and was no longer safe. The bell was removed from its moorings. It remained in the steeple, but could not be rung.
Norfield Congregational Church was established in 1757. The sanctuary, one of Weston's most enduring landmarks, was built in 1832. The steeple bell undoubtedly dates back to that era, and it appears the belfry was built around it.
The Banks Room has a history of its own. Built in the early 1900s, it was originally a one-room schoolhouse. The cupola bell was rung to assemble students. With Town Hall located behind the church at that time, the bell was also used to alert Weston's central fire brigade.
Woody & Prue
The Bliss family moved to Weston in 1974 and immediately became active members of Norfield Church and the community at large. Mr. Bliss served as First Selectman from 2001 to 2009. He is or has been involved in nearly every organization in town, and is currently a member of the Board of Police Commissioners and the Panel of Moderators.
Prue Bliss was a professional ski instructor, avid gardener, and a sailor. She served on the Parks and Recreation Commission and was active in Weston's PTOs, the Boosters Club, Planned Parenthood, and the League of Women Voters.
Ms. Bliss was also a keyboardist at Norfield Church. The new brass bell that honors her memory was made in the Netherlands by the Verdin Company, a 175 year-old bell manufacturer headquartered in Cincinnati. Verdin also built a new frame, yoke, and clapper for the steeple bell.
A Verdin Company crew re-installed the steeple bell on Tuesday. After a ceremony and prayer with members of the Norfield congregation and family, and a blessing by Reverend Dr. Bernard R. Wilson, the Prue Bliss Memorial Bell was placed in the Banks Room cupola. Fittingly, Mr. Bliss helped assemble its frame.
— Our thanks to Bayard Dodge, Susan Moran, and Dr. David Connell.