Voters Approve Lachat Lease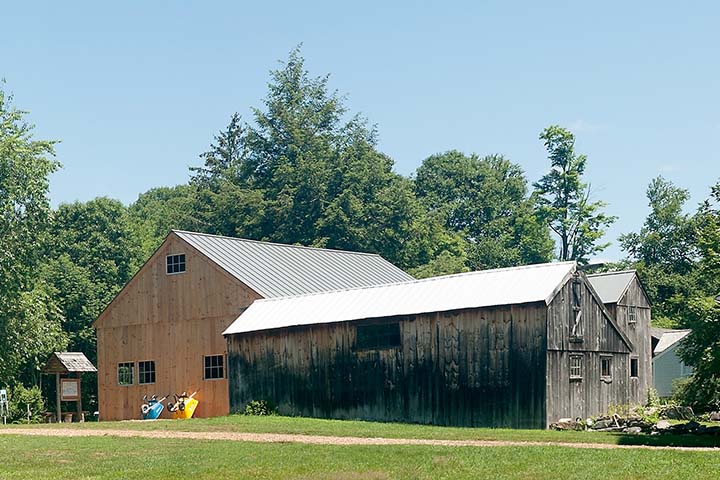 July 20, 2018 — In a Special Town Meeting on July 19, voters approved leasing a house at Lachat Town Farm to Friends of Lachat, Inc., which operates the farm. The organization will now be able to sublease the structure to a resident farm manager. (See our previous article for more background.)
The meeting itself was, according to one observer (this one), charming. Unlike others that involve complex issues and occasionally degrade to acrimony, this was a virtual love-fest. Public affection for the proposal, Friends of Lachat, and the farm itself was palpable.
Around 100 people attended the meeting, 91 of whom were qualified to vote. When it came time to decide, the voice vote was an enthusiastic, unanimous "aye."
The long path to this outcome was not always so uncomplicated. The Lachat property was deeded to both the Town of Weston and the Nature Conservancy, who were not always in agreement about what to do with it. Eventually, a dual lease was arranged, leaving the Conservancy responsible for about half the property — land that adjoins Devil's Den — and the Town managing the part that fronts Godfrey Road, including the structures.
That agreement helped, but then, several years ago, at an Annual Town Budget Meeting voters eliminated funds to implement it. A long period of uncertainty ensued, during which the farm's historic structures rotted. Demolition seemed the likely course. That is when Friends of Lachat came into being.
In the years that have followed, the Friends have raised funds — none coming from tax dollars — restored the buildings, planted fields, opened a community garden, built an environmentally-friendly greenhouse, run education programs for all ages, held entertainment events, and opened a popular Farmers Market, now in its second season. (We have a video report about the market.)
A Long Road
The group has been working for over three years to reach the point, achieved Thursday evening, where a resident farm manager can be brought on to run the farm and enhance its value to the town.
First Selectman Chris Spaulding called the meeting to order and nominated former First Selectman Woody Bliss to moderate. Mr. Bliss read the rules, summarized the question to be decided, and opened a discussion period. Selectman Stephan Grozinger, who had drafted and negotiated the lease, described why it was necessary, its contents, and its history.
The public had only two comments, both questions about technical provisions of the lease, which Mr. Grozinger answered. Mr. Bliss called the question, the vote was taken, and the meeting adjourned.
First Selectman Spaulding said he was "thrilled with the vote and the public's support of Lachat." He added, "The farm is a true Weston jewel. It is great that we will finally have someone there to manage it and make it even better."
Carol Baldwin, founder and director of Friends of Lachat, said "It's so wonderful that, in these times of political discontent, on a mid-July evening, 91 Westonites would come out at cocktail hour to vote unanimously and enthusiastically in support of this important initiative for our town and for Lachat Town Farm. The Farm really is bringing our village and its villagers together! I'm so pleased! Our dream for the Farm is becoming a reality!"