U15 Boys Win Connecticut Cup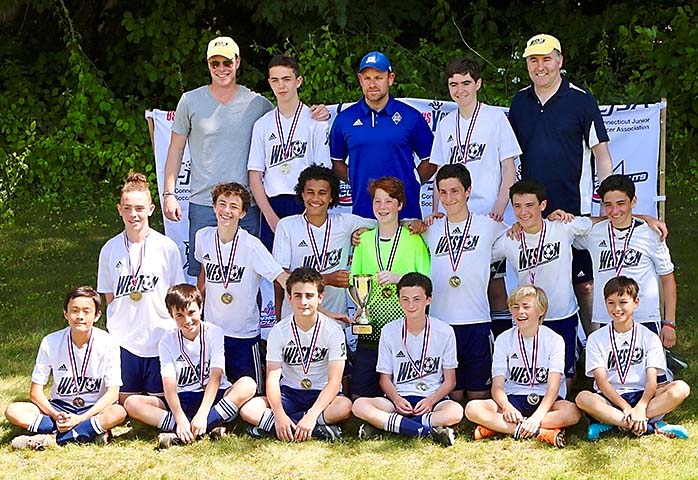 — Photo: Bart Lautenbach
June 20, 2018 — Weston Soccer Club's U15 boys soccer team became Connecticut Cup State Champions on Saturday, June 16 when they defeated Tolland 1–0 in a tight game.
The winning goal was scored by Max Weiss, who broke free of a tough defense and drove a blast into the net. Victory was particularly sweet, as last autumn the boys were runners-up after conceding a heartbreaking extra-time goal. This spring, things were different. In addition to winning the Connecticut Cup, the team won the league championship.
The U15 girls team also reached the Cup finals this season, also playing Tolland, on Tuesday, June 19. But luck didn't go the team's way as they fell 2–1. They can take pride in an excellent season and outstanding results in league and Cup competitions for the past several years.
For that matter, Weston's recent success has been remarkable, particularly for a town this size. Since the autumn of 2015, the U13 and U15 boys and girls have won the Connecticut Cup seven times.
The lion's share of the credit goes to the many talented players in the program. But Weston Soccer Club deserves congratulations as well. Weston's program guides the very youngest players all the way to the varsity high school team. It is one of the few to have professional soccer coaches at all levels.
Weston Today salutes the club, the girls, and the boys for their success.
Photo, front row, left to right: Tyler Atsumi, Spencer Quinn, Nick Fontana, Brandon Leuzzi, Sebastian Leary, Xavier Louit. Middle row: Nouri Sayegh, Max Weiss, Jordan Blunschi, Matthew Lautenbach, Doug Phillips, Tim Bello, Jake Rutsky. Back row: Raphael Blunschi, Hayden Bilfield, Coach Kevin Fitzsimmons, Ciaran Brennan, Joe Brennan. Not pictured: Daniel Oren.
Our thanks to Neil Spencer.