An Interview With Chris Spaulding, Part 2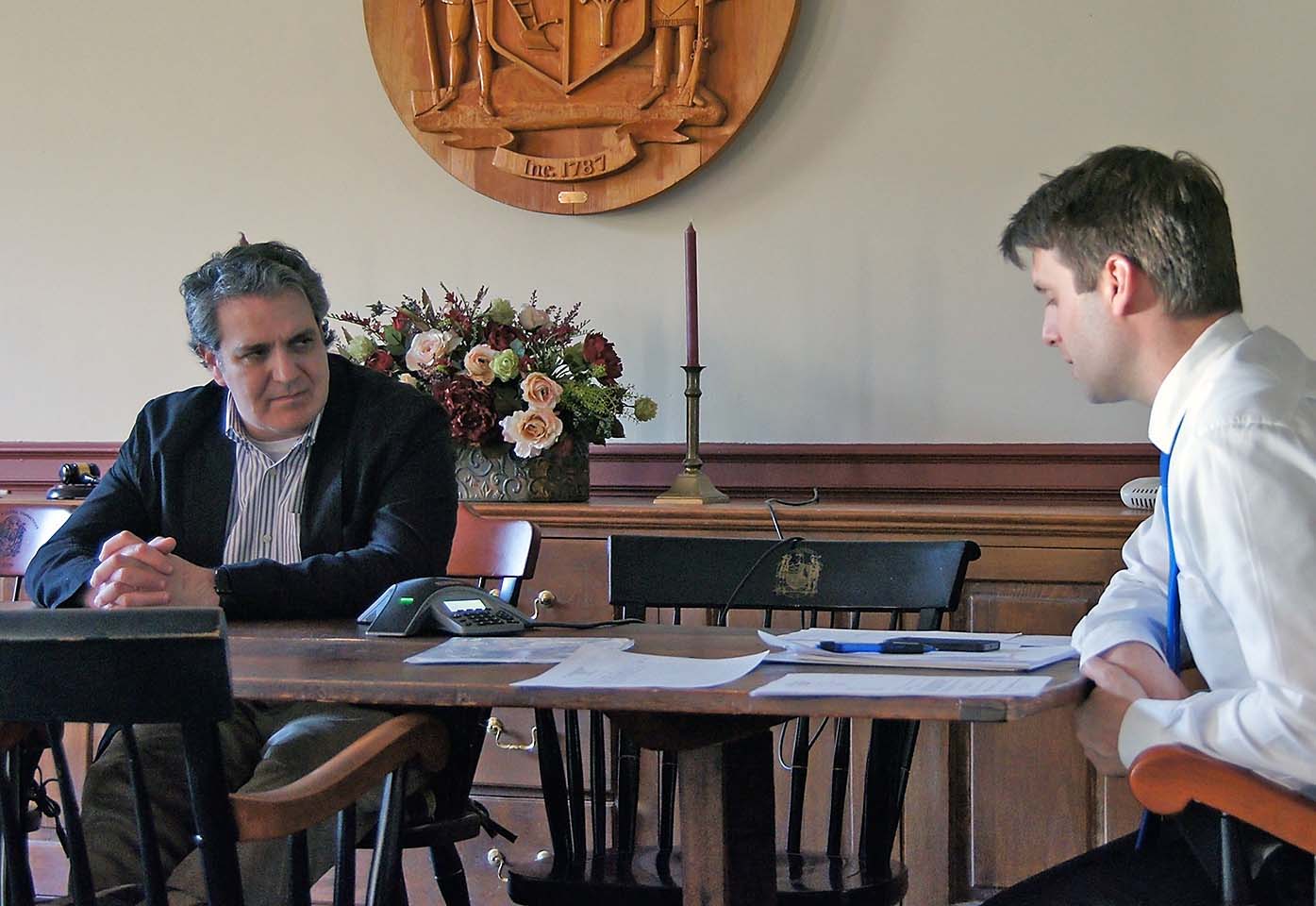 — Contributed photo
June 7, 2018 — We recently sat down at length with First Selectman Chris Spaulding. We thought you would like to know a bit about him, his plans, and what he sees as Weston's opportunities and challenges. This is part 2 of our interview.
What did you learn from those talks?
People tended to fall into a few buckets. One, people wanted something eco-chic, an area with a lot of open space and preserved land. Two, they often were artists who work in a studio at home. And three, which is something we're trying to support and build up over the next year or two, are those with small home businesses. We have a large proportion of them compared with statewide numbers.
The interesting thing about those people is that we're not competing with towns that are closer to transportation hubs and things like that. If you're working out of your home, you want high speed reliable communications and an environment that's not distracting.
The other thing we are looking at is ways for these people to get out of their home and work, to socialize, and have access to services. So we're looking at some sort of flex space. It's obviously going to be a funding issue, and we will have to take a creative look at existing resources. it could be a unique proposition where the municipality would partner with commerce.
Has anything about the job surprised you?
I'm a little surprised by the degree to which I have obligations that have nothing to do with the Town's day-to-day functioning. The handshaking and photo ops are all fun to do, and they are an important part of the role, but what I most enjoy focusing on is getting things done for the town. I love the parades and the speeches and honoring the citizens and all that. I just wish there were three of me.
I'm lucky to have Jonathan Luiz as Town Administrator. It isn't unusual for him to be here all day and night. He's not paid to be here around the clock, but there are plenty of times he is. That level of dedication is hard to find.
You can break down what you do during the day into three categories. There are things you do just to do the job you're paid for. Then there are, let's call them, career tasks, which you do for external rewards and promotions and that sort of thing. And then there is a calling, something you would do even if you had to pay for it. I'm not saying I'm good at it, but that's what I'm trying to do. This job applies all of my skill sets, and I really like doing it. Jonathan is the same way. He goes above and beyond, and a lot of the staff here do too.
What are your top priorities?
One is to bolster the town economically as much as possible. That's why we're having all these community-building initiatives. Weston is a unique value proposition. Wilton and Westport are great towns, and we could become more like them. But they can't come back and be what Weston is.
Another is to make Weston's government culture one of openness and transparency. Our Board started its term with Freedom of Information workshops that were very well attended. We're working hard to make sure we get information out and keep people informed.
Third — and equally important as the other two — I want to create a binary channel of communication between the government and citizens. We want a high level of participation and engagement. There are always people who are going to speak up, but I learned in two election cycles that by reaching out to those who don't, you get a larger and more varied amount of information. I also learned that the squeaky wheels don't necessarily represent the majority. Sometimes they do, but not always. I want to make sure the town is open to the majority of people and majority of opinion.
How do you see Weston evolving?
We should be a home for ecologically-minded artists, parents, and people who are interested in cutting-edge rural technology. We should have innovative ways of supporting small businesses equally with people who commute, and make Weston a hub. We're looking at things like high speed fiber and municipal WiFi so people who can choose to come here, work out of their homes, and have a different lifestyle from those who drive into the city and come back at 7 pm. A lot of people do that, but for people who are tired of it, we should create an environment that is conducive to making a change.
We're looking at advanced sustainability initiatives. We've already moved forward with a fracking wastewater ban. We have two megawatts of solar power to deploy to the schools and the town, which saves money and takes two megawatts of dirty energy off the grid.
I think we can market Weston as sustainability enablers is a way that is economically productive as well.
Who do you need to drive that message to?
Some out-of-town real estate agents don't even want to come up here. Weston? It's out in the middle of nowhere. We want our Marketing Communications Advisory committee to create media presentations and have people trained to go to these real estate agents and present why people should go to Weston.
Almost every part of Weston is close to shopping centers. We're not really all that out-there. So, we need to do a better job communicating our strengths. We're the safest town in the state, maybe the country. In Weston, you're paying for what you don't get: no crime, no pollution, no congestion, no noise. You pay for those things, so there's always a balancing act.
You want to keep taxes low, but you don't want to erode what the town is. You have to be aware that there are people in town who are struggling. But at the same time we have to make sure we don't get into a vicious cycle where we cut so much that we stop being desirable, people stop moving in, house values go down, and we have less money to keep the town attractive. You don't want to get into a downward spiral.
Right now, a good part of our home values are driven by our school rankings. I don't think anyone would argue with that. But if our school rankings go down, our home values go down, and then you really have a problem and can do nothing but cut, cut, cut.