Honors for Mock Trial Team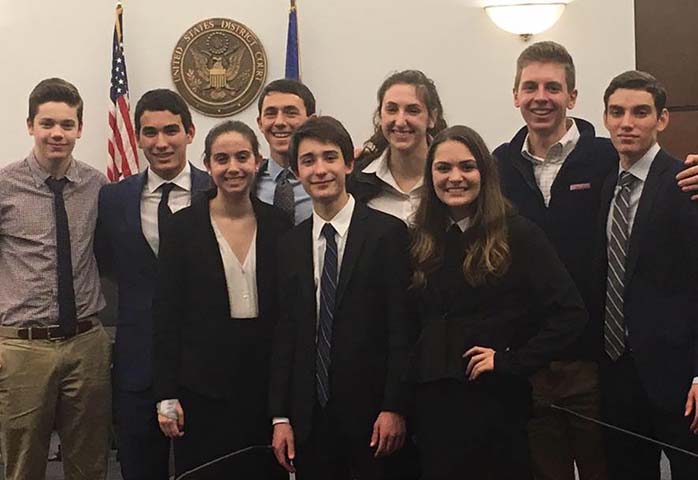 June 2, 2018 — Weston High School's Mock Trial team was honored at the Civics First annual award dinner on May 31. The team received the Connecticut State Second Place award and the Professionalism and Civility award for exemplary conduct during the months-long competition. The team's members were commended by Civics First Board President Jonathan Weiner for their leadership and kindness in reaching out to younger participants from other schools to offer advice for the future.
The team was led by senior captains Max Chayet and Matthew Sydney, joined by senior James Joyce and juniors Jane Burdett, Abby Glasberg, Brendan Moore, Beck Reiferson, Owen Tanzer, and Carolyn Zech. Ms. Glasberg was recognized as the Best High School Witness for 2017-2018. Many members were also part of the 2015-16 state championship team that went on to compete in the 2016 National Championship in Idaho.
Weston High School teacher Laura Del Savio is the team advisor. Carl Bernstein and Kate Moore serve as the team's attorney coaches.
Civics First, established in 1976, is a non-profit association that conducts and promotes law-related education programs in Connecticut schools. The organization offers and promotes programs that help students develop self-confidence, critical thinking, public speaking skills, and an understanding of the Constitution and the rule of law.
Our thanks to Marcia Hamelin