Speak Up Follow Up: Weston, the Environment, and Plastic Bags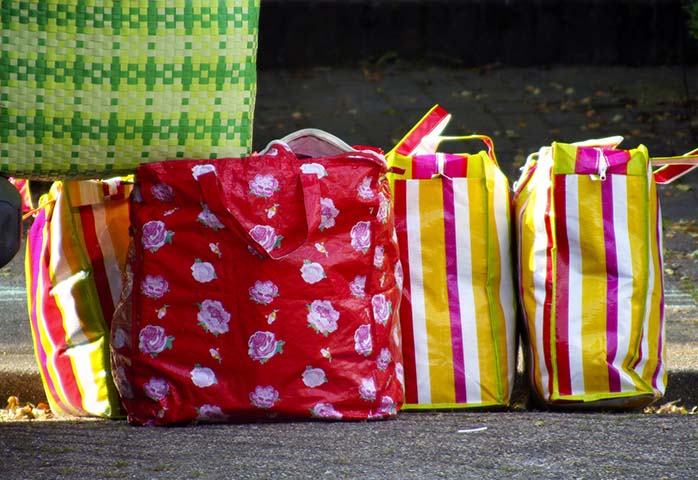 May 9, 2018 — Early this year, the public had an opportunity to discuss issues with town and state officials at the annual Speak Up event sponsored by the League of Women Voters. We thought it would be interesting to circle back to those who spoke and find out if they believe progress has been made on the concerns they raised.
Weston residents are known to be environmentally conscious. In recent months, the Board of Selectmen has placed great emphasis on environmental concerns and sustainability. The Board implemented a solar energy program to reduce fossil-fuel consumption and the town's carbon footprint. It also gave preliminary approval to an ordinance drafted by the Sustainability Committee to ban fracking wastewater.
So it is no surprise that the environment was a major theme at this year's Speak Up. One of the first questions came from Dr. Larry Shore, a longtime resident and professor at Hunter College in New York City. He wanted to know if anything is being done in town to restrict the use of plastic bags in stores. He began by saying: "Weston is a leading town in almost everything in the world, except in one area, where we are behind the country of Rwanda, and that is plastic bags."
In response, the then-chair of the Sustainability Committee described plans to inform citizens about the issue, work with local businesses, and create an ordinance that balances the needs of business, the environment, and residents.
Following Up
This week, in our first Speak Up Follow Up, we asked Dr. Shore if he is satisfied that there has been progress on this matter in the months since Speak Up.
"I've heard that an ordinance is being drafted, but haven't seen anything yet," said Dr. Shore. "I hope there is progress soon. This has been discussed for a long time and it's time to get it done. It is such a no-brainer."
Dr. Shore added that "there has been much publicity recently about how terrible plastic bags are for the land and the oceans. Dozens — if not hundreds — of towns, cities, states, and even countries have come up with plans to cut down on the use of plastic bags. Why is Weston so far behind the curve? Westport is one of the pioneering cities in this regard. We live right next door. We can do better."
An Ocean Disaster
The publicity Dr. Shore refers to is news about the infamous Great Pacific Ocean Garbage Patch, a floating junkyard of human refuse roughly twice the size of Texas. Similar patches, not quite as large, have been found in the North and South Atlantic oceans.
For the most part, these patches consist of plastic bags, plastic bottles, and other consumer debris. Discarded fishing nets organize them into virtual islands of junk. The United Nations Ocean Conference estimates that, by 2050, oceans could contain more weight in plastics than fish.
Clearly, individual towns cannot solve this problem. Perhaps a solution will be found as small towns collectively take action in concert with larger jurisdictions.
As Dr. Shore pointed out, Westport enacted an ordinance in 2008 to prohibit plastic bags in stores. Just weeks ago, Greenwich adopted a similar measure. The country of Rwanda has indeed banned plastic bags. In 2010, so did Mexico City. We know that the Sustainability Committee continues its work. We will continue to report on its progress in weeks ahead.