Weston Students Reach Odyssey of the Mind World Finals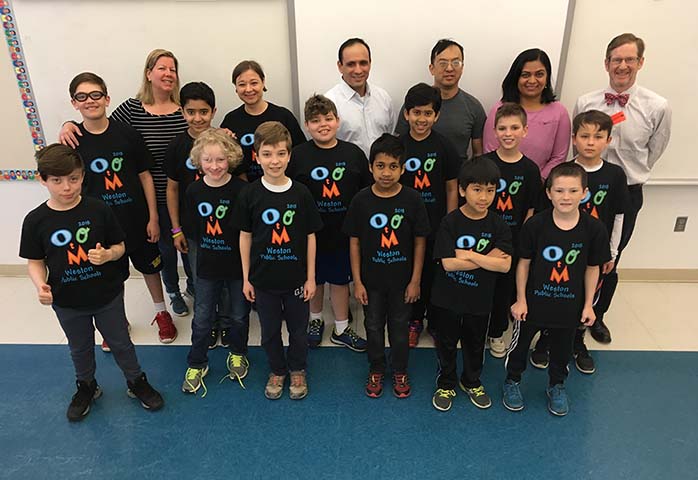 May 7, 2018 — Two Weston Intermediate School teams will compete in the Odyssey of the Mind world finals on May 22–25 at Iowa State University. Weston's Team A and Team B qualified for the final round by respectively finishing first and second in their division for the state competition.
Odyssey of the Mind is an international STEM-based (science, technology, engineering and mathematics) education program. It challenges students to develop creative thinking skills to solve open-ended problems. Since 1978, teams from throughout the United States and from more than 20 other countries have participated.
The program has run for four years at Weston Intermediate, managed by Rudd Anderson, the school's Talented and Gifted program leader. It is actively promoted and supported by the PTO.
At the beginning of each school year, teams of interested students form and are coached by parent volunteers. Teams select long-term problems for the year from one of five categories: Vehicle, Technical, Classics, Structure, or Performance. Over the following six months, and strictly within a "no outside assistance" rule, teams prepare eight-minute solutions to be presented at the Connecticut State competition in March.
During that competition, teams are also given a spontaneous problem, which they must solve on the spot. Their combined scores determine each division's top two state finishers, who are then invited to the world finals to represent their schools. Three teams from Weston's schools have earned that honor in the last four years.
"This is our team's second time going to world finals," said Dylan Field of Team A. "It's a big event, and we are excited to be returning again this year." His teammate, Jack Wohlford, said: "I love the engineering aspect of this problem. We are definitely planning to compete in Odyssey at the Middle School next year." Both students are currently in fifth grade at WIS.
Kavan Patel, a fourth-grade member of Team B, said "I'm very excited to go to world finals. We have come together as a great team and will do our best."
When asked about the program, none of the competitors mentioned the hard work they have put into their projects throughout the year. But there is no doubt that their pride, excitement, and success are the result of months of dedicated work.
Photo: Members of Weston's Odyssey of the Mind teams. Left to right, front row: Joseph Mahoney, Kyler Murphy, Michele Zana, Chinmay Sivaraman, Brian Yee, Maks Moffly.
Middle row: Jack Wohlford, Rohak Gulia, Dylan Field, Kavan Patel, Ryan Boynton, Will Kiefer.
Back row: The coaches. Elizabeth O'Connor-Wohlford, Edina Field, Chris Boynton, Conway Yee, Khyati Patel, Jonathan Moffly.