April Declared Sexual Assault Awareness Month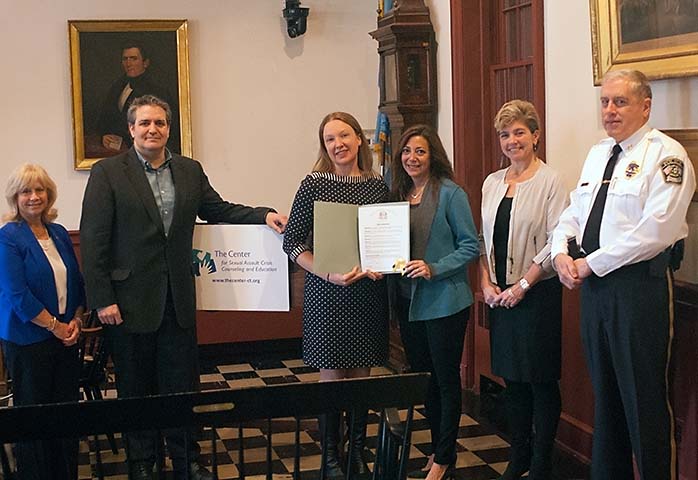 April 3, 2018 — Nationally, one in four women and one in six men will be sexually assaulted in their lifetime. 19 percent of Connecticut residents report having been assaulted at some point in time.
Today, in a Town Hall ceremony with The Center for Sexual Assault Crisis Counseling and Education, First Selectman Chris Spaulding proclaimed April 2018 "Sexual Assault Awareness Month," and urged "all our citizens to join me in participating fully in activities and events."
The Center, led by former First Selectman Gayle Weinstein, who attended today's event, offers a wide range of initiatives to prevent sexual violence. These include awareness campaigns, community outreach events, and prevention education for schoolchildren, community members, police forces, healthcare professionals, and elected officials.
In addition to Weston, The Center serves Darien, Westport, Greenwich, New Canaan, Norwalk, Stamford, and Wilton. Darien Selectman Susan Marks and Westport Selectman Jennifer Tooker spoke at the ceremony. Also participating were Weston Police Chief Edwin Henion and Captain Matthew Brodacki, who serves on The Center's board of directors. They were joined by officers Jason Kim and Jonathan Marsili.
The meeting included a harrowing first-person account of sexual violence, which drove home the importance — and urgency — of addressing and preventing sexual assault. The Center's Executive Director, Quintin Ball, said she is "optimistic victims will come forward" as awareness of the problem has been heightened by revelations of assaults by high-profile celebrities.
The Center's reach is significant. Last year, it provided free, confidential one-on-one counseling to 540 clients, educated 17,000 students as young as five years old and up to college age, and expects to exceed those numbers this year.
Ms. Ball told Weston Today that The Center's work in Weston Middle School includes programs on sexual harassment and responsible use of social media. In the high school, students are producing twenty public service announcement videos, which will be submitted to a contest among the eight towns served by The Center. Programs at the senior center begin soon.
Captain Brodacki may have summarized it best, saying there is no "panacea" to preventing sexual assault, but that "identifying and helping victims is the best first step we can take as a community."
The Center for Sexual Assault Crisis Counseling and Education opened in 1979. For more information, visit their website.