Students Walk Out in Honor of Parkland Victims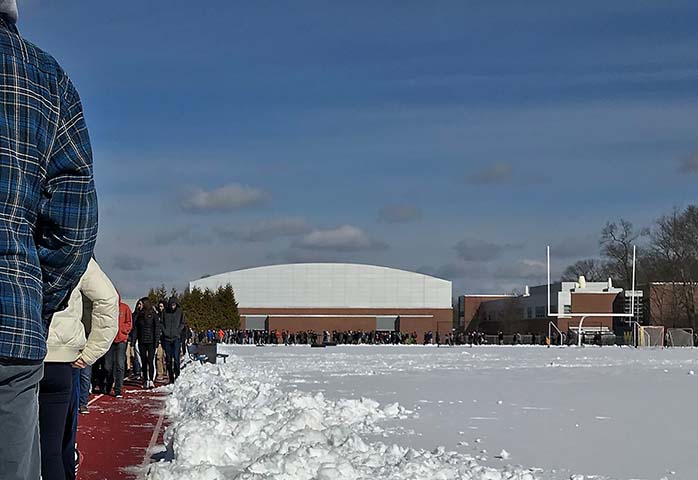 March 24, 2018 — Students across the nation organized a walkout on March 14, 2018, one month after the mass shooting at Marjory Stoneman Douglas High School in Parkland, Florida. The walkout lasted from 10:00 AM to 10:17 AM, one minute for each of the 17 victims of the Parkland shooting.
The Weston High School administration, while not endorsing the walkout, did not act to prevent it. The Superintendent of Schools sent emails to parents and students detailing guidelines for the walkout and ensuring that those who participate would not be punished. According to the guidelines, students choosing not to participate were to be respected for their decision.
Student volunteers shoveled the track clear of snow Tuesday night in preparation for the event. During third period nearly every Weston High School student and a number of teachers walked out of the building to the track.
Some students, such as Doran Sekaran, a junior, passed out pamphlets and informational slips of paper. Mr. Sekaran, co-president of the Young Progressives club, said he was "participating in this [walkout] to spread awareness about issues that plague our democracy at the current moment and to open up political discussion." Other students shared a similar perspective.
After the students gathered at the base of the bleachers, the organizers began their speeches.
Elisa Teles, a senior organizer of the walkout, said that she wishes for people to look deeper into the issues, and not just repeat the information they hear because she thinks "the debate on gun control needs to be more elaborate."
During the speeches, 17 students cracked glow sticks in honor of the Parkland victims. Additionally, 26 students held stuffed animals as they walked a lap around the track. Each animal represented a life lost in the 2012 Sandy Hook shooting, which took place less than 20 miles from Weston.