Dog Park Meeting Scheduled for March 22, Vote on April 4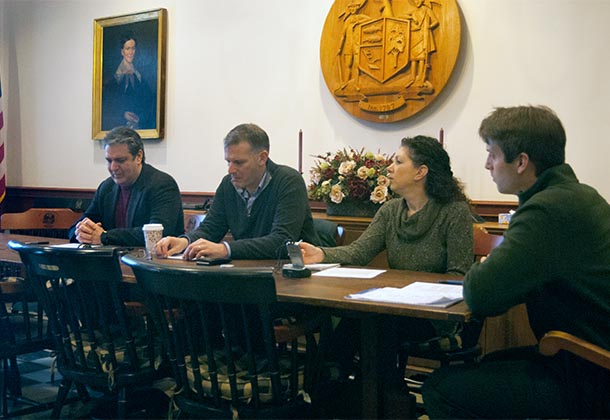 March 13, 2018 — The Board of Selectmen has set new dates for the storm-delayed hearing and vote on the proposed dog park.
A Special Town Meeting will be held on Thursday, March 22 from 7:00 PM to 10:00 PM at the Weston Middle School cafeteria. This is a discussion-only hearing; no vote will be taken.
A follow-up machine-ballot vote will be held on Wednesday, April 4 at the Town Hall Meeting Room. Voting hours are 6:00 AM to 8:00 PM.
In this format, voting by absentee ballot is not possible. To offset the impact of that and to generally maximize public participation, the Board acted to expand the voting time to 14 hours, which is why ballots can be cast beginning at 6:00 AM. Normally, machine-ballot voting begins at noon.
Absentee ballots that were submitted for the cancelled March 10 vote are no longer valid and will not be counted.
Why no absentee ballots?
The short answer is that, because this vote is a result of a citizen petition, by the terms of the Charter it is a Special Town Meeting, not a referendum. Absentee ballots can be used in a referendum. But, according to the Secretary of State, a town cannot legally use absentee ballots in a Special Town Meeting unless its charter specifically says it can. Weston's charter does not.
The bottom line is that the Town erred in referring to the vote as a referendum and making absentee ballots available. This apparently only became clear at about the same time the March 10 vote had to be cancelled anyway due to dangerous weather.
So, technically, this is a Special Town meeting in two parts. The hearing is on March 22. Then everyone takes a break and the meeting reconvenes on April 4 for the vote. In order to vote, you do not have to attend the hearing, but you must be physically present on the 4th.
Is it true that, to pass, there must be hundreds more Yes votes than No votes?
No. The majority rules. But there is a catch. For the measure to pass, per the Charter, even with a majority, the total number of Yes votes must be at least 3 percent of the total number of qualified voters. That isn't just 3 percent of those who vote. It's 3 percent of all those who could vote. According to Town Administrator Jonathan Luiz, qualified voters include both registered voters and those who are eligible to vote by virtue of the Grand List.
We do not know what the number of qualified voters will be on April 4. As we understand it, as of February 20 it was approximately 7,034. If that is the number on April 4, in order for the dog park proposal to pass, there would have to be at least 211 Yes votes and a lesser number of No votes.