Keep Kids Warm & Healthy All Winter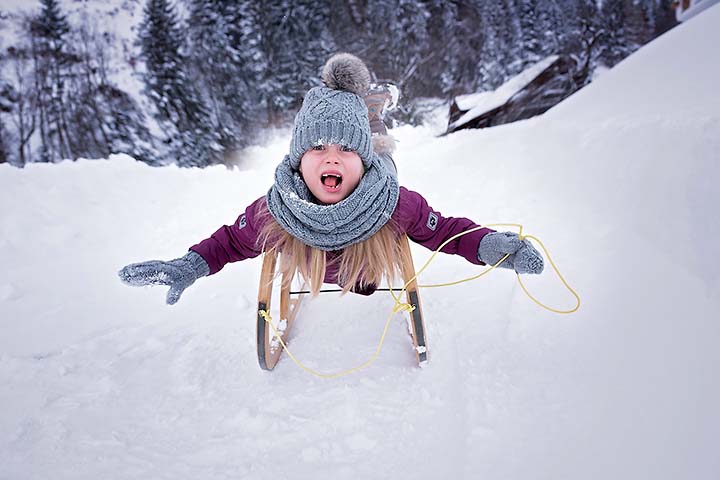 Winter can bring lots of family fun – sledding, skiing, snowboarding, not to mention shoveling snow. No matter what kind of weather winter brings this year, here are some tips to follow to keep your kids warm, healthy, and safe.
What to Wear
Dress infants and children for outdoor activities. Several thin layers will keep them dry and warm. Always remember warm boots, gloves or mittens, and a hat.
Protect your kids' faces with sunscreen. This might sound odd, but snow can reflect up to 85% of the sun's ultraviolet rays.
Younger or older kids sometimes have a tough time knowing when to come inside from the cold. Check on your kids regularly to make sure that mittens are dry and warm and noses aren't too red, which can lead to frostbite.
Winter Sports Safety
Sledding and Snow Tubing
Always supervise children.
Keep sledders away from motor vehicles.
Choose a sledding hill that is free of obstructions like fences or trees, be covered with snow (not ice), not too steep (slope of less than 30 degrees), and end with a flat runoff.
Ice Skating
Allow children to skate only on approved surfaces. Check signs posted by local police or recreation departments.
Advise your kids to skate in the same direction as the crowd, and never skate alone.
Skiing and Snowboarding
Children should never ski or snowboard alone.
All skiers should wear a helmet to protect from head injuries.
Equipment should fit your child, and goggles should be used for eye protection.
Choose a slope that fits the ability of the skier or snowboarder, and avoid crowded slopes.
Snowmobiling
All kids (and adults) should wear goggles and a safety helmet approved for use on motorized vehicles.
Travel in groups and at safe speeds.
Kids younger than 16 should not operate snowmobiles, and those younger than 6 should not ride on them.
Stay on marked trails, away from roads, water, and pedestrians, and never snowmobile at night.
Simple Ways to Avoid Winter Colds
Get a flu shot. It's the No. 1 thing you can do to prevent the flu.
Make sure your kids wash their hands – a lot especially when in contact with people who are contagious. Use alcohol-based hand sanitizer if you can't get to soap and water.
Make sure they get plenty of sleep. Children need between 9 and 14 hours of sleep a day depending on their age. Sleep deprivation can weaken the immune system and increase the risk of getting sick.
Provide a well-balanced diet with plenty of colorful fruits and vegetables to help boost children's immune system. Avoid foods high in additives, preservatives, and sugars.
Avoid germy sharing. Although it is good for kids to share, commonly shared items can be breeding grounds for germs. Teach children to never share straws and cups, caps and scarves, or anything that comes in contact with their mouths and faces.
When kids do get sick, it is important for parents to keep them home and take steps to prevent germs from spreading to others. If a doctor's visit is necessary, AFC Urgent Care Norwalk makes it easy to see a physician without an appointment. Our mission is to provide the best health care possible, in a kind and caring environment.
AFC Urgent Care Norwalk is conveniently located at 607 Main Avenue just north of the DMV and across from the Hilton Garden Inn. Our hours are M-F 8am-8pm and Sa-Su 8am-5pm. No appointments are needed and most insurances are accepted. For more information, visit afcurgentcarenorwalk.com, or call 203-845-9100.