The Real Dogs of Weston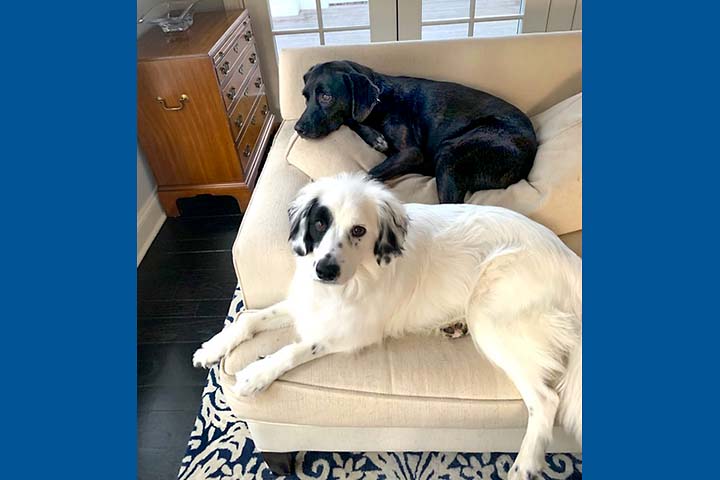 A column just for Weston's canine - and now, feline! - citizens, sponsored by Passage East Kennels.
Each week, we'll introduce you to a pawsome dog or cat neighbor as well as donate $10 to a local rescue group or animal shelter chosen by their humans. To be featured, please email passageeastwilton@gmail.com.
Meet Mini & Bucky, dog brothers from different mothers who found the same forever home in Weston! These playful pups are so much fun to be around, human family members Doug, Lisa, Alexis & Jacob Rozen don't even mind that they hog all the social media spotlight (and, some-times, the household cheese). Continue reading to find out more about these canine companions and the humans they rescued!
Names: Mini & Bucky.
Breeds: "Both dogs are rescues, so their specific breeds are unknown. Our guess is that Mini is a hound and that Bucky is an Australian Shepherd/cocker spaniel mix."
Ages: Mini (7 years old), Bucky (1 year old).
How We Met: "We rescued Mini seven years ago when we moved to Connecticut. We met him at Passage East. He was rescued from the South along with his siblings, and we loved his energy and his ease with children. We met Bucky last year, when he was being fostered by a Weston family through Danbury Animal Welfare Society (DAWS). They posted a video of him and his siblings on YouTube and we instantly fell in love with him. He was the most playful of the pack and we felt certain that his energy would keep Mini on his toes."
A Few of Their Favorite Things: "They love going to the Ridgefield Dog Park and both dogs are obsessed with cheese!"
Least Favorite Thing: "When we are out of cheese!"
Preferred Napping Location: "Next to each other on the couch."
Model Citizen: "When Bucky was 5 months old we took him to puppy training classes. A few classes in, he was recruited to be in a catalog photo shoot. His photos went on social media and it's fair to say he is the most famous member of our family."
Why They're Our Best Friends: "Mini and Bucky are both sweet-natured dogs. They get along well with other dogs, people and each other They also have an uncanny way of making us laugh."
Donating to: Danbury Animal Welfare Society.
Passage East is a Weston family business owned by Joe & Laura Kaddis for nearly 20 years. We offer compassionate & professional boarding, grooming, and daycare for dogs - and now cats! - of all breeds at our spacious, 4 acre retreat in Wilton's Cannondale neighborhood. Born out of a passion for animal rescue, we proudly work with and support local groups to help dogs in need.
Passage East Kennels
499 Danbury Road
Wilton, CT 06897
(203) 762-7998
www.passageeastkennels.com