The Real Dogs of Weston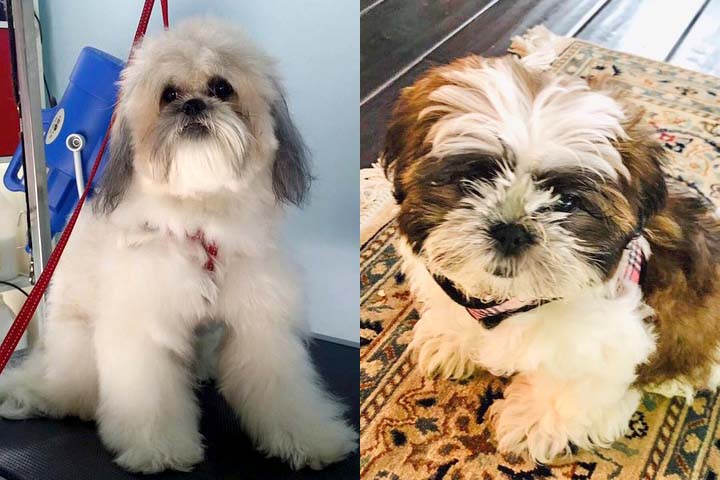 A column just for Weston's canine - and now, feline! - citizens, sponsored by Passage East Kennels.
Each week, we'll introduce you to a pawsome dog or cat neighbor as well as donate $10 to a local rescue group or animal shelter chosen by their humans. To be featured, please email passageeastwilton@gmail.com.
It was love at first sight when these pups met their people and it's been nothing but love ever since! Ally and Charlie are two charming young shih tzus who reside in the home (and laps) of human brother Ian and parents Paul MacShane and Meryl Sia. They may look like they're taking it easy, but don't be fooled: these two adorable bundles of fluff work round the clock fulfilling their duties as Devoted Family Lap Dogs.
Of course, you know what they say: do what you love and you'll never work a day in your life! If you're lucky enough to catch them around town, be prepared to smile uncontrollably. It's been said that some have been able to meet them without saying "Awww….", but we haven't actually met any of those people.
Names: Ally & Charlie Sia.
Breeds: Shih tzus.
Ages: About 5 years old (Ally) and almost one (Charlie).
A Few of Their Favorite Things: "Ally loves roasted chicken. Charlie loves everything!"
Not a Fan of: "Being left at home."
Favorite Spots to Snooze: "Couches, coffee tables, pilates machine, under the table near Meryl."
Favorite Place in Weston: ""Our backyard."
Why They're Our Best Friends: "They love everybody!"
Donating to: PAWS.
Passage East is a Weston family business owned by Joe & Laura Kaddis for nearly 20 years. We offer compassionate & professional boarding, grooming, and daycare for dogs - and now cats! - of all breeds at our spacious, 4 acre retreat in Wilton's Cannondale neighborhood. Born out of a passion for animal rescue, we proudly work with and support local groups to help dogs in need.
Passage East Kennels
499 Danbury Road
Wilton, CT 06897
(203) 762-7998
www.passageeastkennels.com