The Real Dogs & CATS! of Weston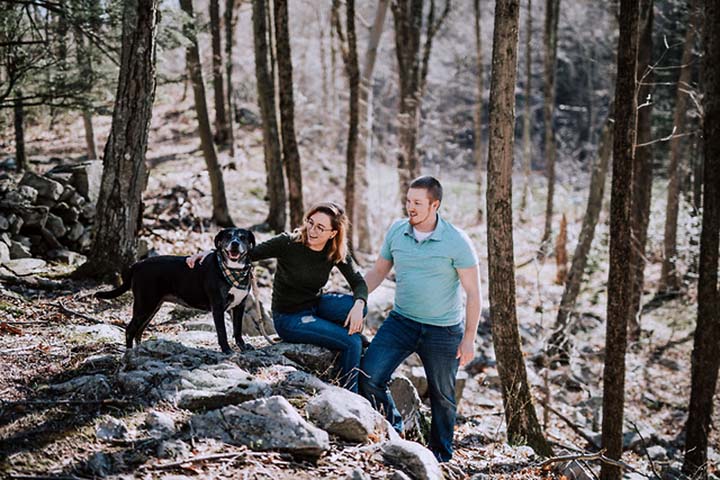 A column just for Weston's canine - and now, feline! - citizens, sponsored by Passage East Kennels.
Each week, we'll introduce you to a pawsome dog or cat neighbor as well as donate $10 to a local rescue group or animal shelter chosen by their humans. To be featured, please email passageeastwilton@gmail.com.
This doggy has a first name, it's O-S-K-A-R! We're pleased to introduce you this week to an exceptionally cuddly girl named Oskar, a lab/pit bull mix living in Weston with her humans Kristina Miedzinski and Austin Ryer. This rescue pup has a strong dislike for certain floor-cleaning devices, but loves mostly everything else, particularly snuggling with mom and dad, romping in the backyard, and snacks (not necessarily in that order). Read on to learn more about this adorable hot dog and how she once did something we've all probably wanted to do for a piece of bread.
Name: Oskar Mayer Bacon Ryer.
Breed: Lab/Pit Bull mix.
Age: Six (ish).
How We Met: "All the Baltimore County MD animal shelters were doing a huge Clear The Shelter adoption fest one day. Austin was going for a hike with his friend and I decided to go check it out and see if there were any good dogs available. I got there around 8:30 am and all the dogs were adopted! I went to the BARCS table and asked if they had dogs at their shelter and would I be able to do the free adoption through there. They said yes! So I went and walked with 4 dogs, and when they brought out Oskar, her and I just looked at each other and I started crying. It was the perfect match! I brought her home and that was that. Austin was surprised to walk in and find a dog though."
A Few of Her Favorite Things: "Any food. She eats anything! The only toys we have that she hasn't defeated are Kongs, so we hide treats and cheese in them! She loves playing with sticks in the yard, chasing birds as they fly through the air, and getting belly rubs!"
Not a Fan of: "She hates the vacuum and really hates the Swiffer too."
Sleeping with One Eye Open: "She loves napping in any sun spot she can find, usually by doors so she can also watch squirrels."
More to Love: "She's chubby but she can roll over now! I do think my favorite story is when she knocked Austin out of his chair so she could eat his bread that he had in his hand."
Why She is Our Best Friend: "She's so cuddly. I'll be working and she'll come up and nudge my arm and jump on my lap to get pets. Whenever we try to get out of bed she'll jump on our legs to snuggle for a few more minutes!"
Donating to: Connecticut Humane Society.
Passage East is a Weston family business owned by Joe & Laura Kaddis for nearly 20 years. We offer compassionate & professional boarding, grooming, and daycare for dogs - and now cats! - of all breeds at our spacious, 4 acre retreat in Wilton's Cannondale neighborhood. Born out of a passion for animal rescue, we proudly work with and support local groups to help dogs in need.
Passage East Kennels
499 Danbury Road
Wilton, CT 06897
(203) 762-7998
www.passageeastkennels.com