The Real Dogs & CATS! of Weston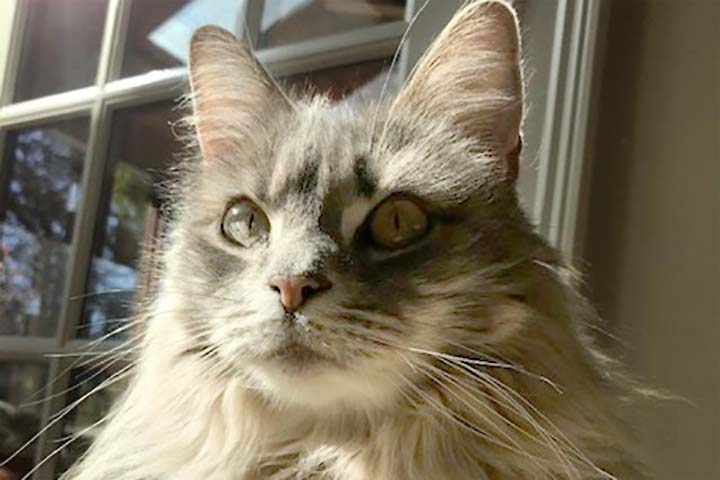 A column just for Weston's canine - and now, feline! - citizens, sponsored by Passage East Kennels.
Each week, we'll introduce you to a pawsome dog or cat neighbor as well as donate $10 to a local rescue group or animal shelter chosen by their humans. To be featured, please email passageeastwilton@gmail.com.
Nope, you're not seeing things - this week's featured dog is a cat! To celebrate the Grand Opening of Passage East's new Cat Cottage, a cozy retreat just for felines located next door to our kennel, we're inviting Weston's kitties to participate in our weekly column!
Our first feline guest is Ruby, an affectionate Domestic Longhair who enjoys the purrfect life with the McCarthy family (20-year Westonites Kristin & Bill, their children Liam, Owen, Aidan & Emma, and bunny friends, Pipa & Snuggles). We're loving this gorgeous kitty and her adorable obsession with the bathroom sink - read on to learn more about her, and check out our website to find out about the Cat Cottage, now accepting boarding reservations for Thanksgiving. Mee-ow!
Name: Ruby.
Breed: Domestic Longhair.
Age: 9 years old.
How We Met: "We were looking to add a cat to our family, and when we contacted the agency we found out there was a pair of siblings. We didn't have the heart to take just one, so we came home with both of them!"
A Few of Her Favorite Things: "Ruby loves Catnip. She wakes us all up meowing in the middle of the night for attention. She wants to be picked up and brought to the bathroom sink to drink her water. After she wakes us all up she likes to sleep all day!"
Not a Fan of: "Being groomed. She runs away as soon as she sees the brush."
Hydration Preferences: "Ruby loves drinking running water from the faucet. The bathroom is her favorite but she has a fountain on the kitchen floor she can drink from."
Why She is Our Best Friend: "She is very affectionate and almost dog-like. She comes to greet us when we get home and will follow everyone around all day from room to room to get attention."
Donating to: PAWS.
Passage East is a Weston family business owned by Joe & Laura Kaddis for nearly 20 years. We offer compassionate & professional boarding, grooming, and daycare for dogs - and now cats! - of all breeds at our spacious, 4 acre retreat in Wilton's Cannondale neighborhood. Born out of a passion for animal rescue, we proudly work with and support local groups to help dogs in need.
Passage East Kennels
499 Danbury Road
Wilton, CT 06897
(203) 762-7998
www.passageeastkennels.com